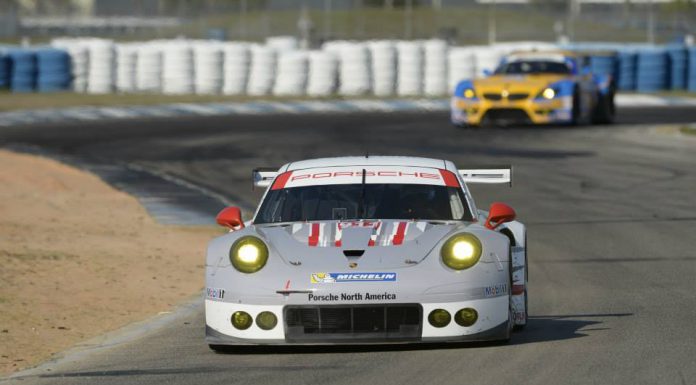 Porsche swept major wins in the GT Le Mans and DT Daytona classes during the two winter test days of the 12 Hours of Sebring. Porsche North America's cars showed resilience in both days, and went ahead to claim these wins. This was a continuation of their success from the first round of the Tudor United Sportscar Championship, the Rolex 24 at Daytona.
In the GT LM class, the No. 911 Porsche 911 RSR driven by Patrick Pilet, Nick Tandy and Richard Lietz set the fastest lap with a time of 1:59.395 (112.769 mph). Another Porsche North America No. 912 Porsche 911 RSR driven by Patrick Long, Michael Christensen and Joerg Bergmeister came in second with a time of 1:59.867 (112.324 mph). The third slot in the GT LM class went to SRT Motorsports No.93 SRT Viper GTS-R of Marc Goossens, Jonathan Bomarito and Jeroen Bleekemolen which set a time of 2:00.496 (111.738 mph).
In the GTD class, Porsche rose again to claim the win when the No. 73 Porsche 911 GT America of Park Place Motorsports driven by Kevin Estre and Patrick Lindsey set a time of 2:04.289 (108.328 mph). The No. 23 Porsche 911 GT America of Alex Job Racing, Cooper MacNeil, Leh Keen and Peter Frommenwiler came in second in this class with a time of 2:04.359 (108.267 mph). The third spot in the GTD class was scooped by Turner Motorsport with the No. 94 BMW Z4 driven by Dane Cameron, Paul Dalla Lana and Markus Palttala, they set a time of 2:04.487 (108.156 mph).
The Mobil 1 Twelve Hours of Sebring Fueled by Fresh From Florida will take place on Saturday, March 15th.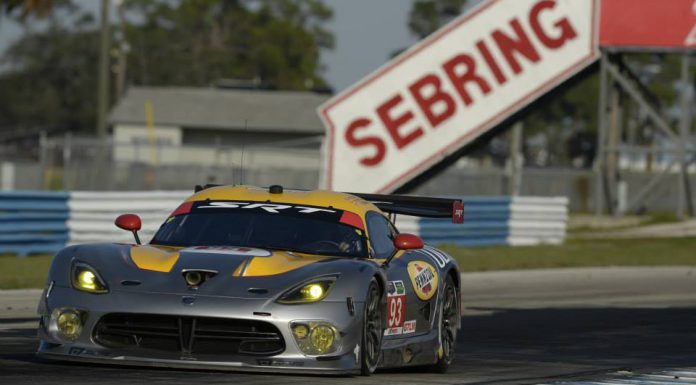 Quotes:
Owen Hayes, Porsche Motorsport North America director of operations
We had a clear set of objectives entering the test, while finding speed is always very nice, our main goal was to test the cars at one of, if not the, most physically demanding race courses in the world. To be able to work through our checklist of items to test without any major issues with either of the Porsche North America 911 RSRs was very encouraging.