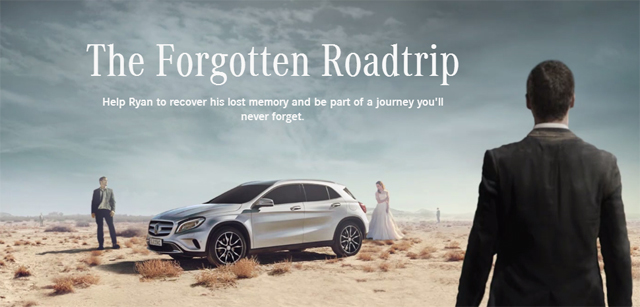 Hot off the heels of our recent test drive of the Mercedes-Benz GLA 45 AMG Edition 1 and GLA 250, Mercedes-Benz has released an intriguing and very unique interactive video experience to advertise the new 2015 Mercedes-Benz GLA.
The rather mysterious experience follows the journey of Ryan, the protagonist, waking up in a daze in the middle of the desert and wondering what just is going on. He slowly comes to his senses and stumbles upon his car, a new Mercedes-Benz GLA 200 CDI 4MATIC.
GTspirit Road Test of 2015 Mercedes-Benz GLA 45 AMG Edition 1

However, Ryan's journey doesn't stop there. He finds himself being followed by the paparazzi and comes across some bad people as he tries to find Julie, the girl of his dreams.
Be sure to follow the link below to play!
The range-topping Mercedes-Benz GLA 45 AMG Edition which we recently drove in Spain, gets the same familiar M133 2.0 litre inline 4-cylinder engine as the rest of the '45′ cars. This engine features aspects drawn from AMG's '63′ series engines as well as their motorsport counterparts. It comes directly from the M270 family of petrol engines which populates the rest of the range. Featuring 360 hp at 6,000 rpm and 332lb ft of torque between 2,250 and 5,000 rpm, the GLA 45 AMG has the strongest four-cylinder turbo engine in the world with 180hp per liter.
Play the Mercedes-Benz GLA experience