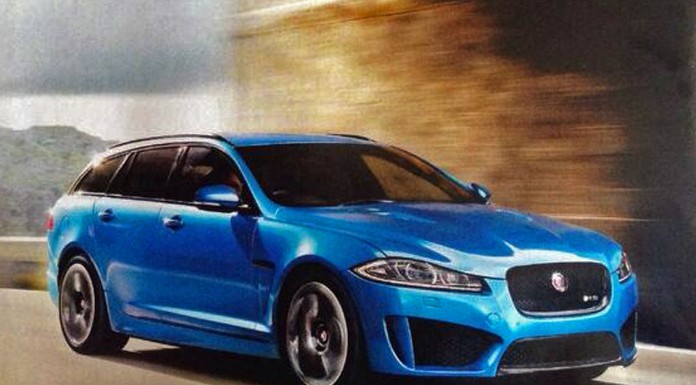 Jaguar will bring an extra special version of its XF Sportbrake to the Geneva Motor Show 2014. A leaked photo reveals that Jaguar have chosen to unveil a performance estate at the show. The Jaguar XFR-S Sportbrake will become the first XF Sportbrake to receive the fantastic supercharged V8 engine.
Despite a lack of XFR Sportbrake in the current Jaguar range, the Jaguar XFR-S Sportbrake makes its debut. It will almost certainly feature the same 5.0 litre V8 powerplant as its sedan counterpart (which we drove recently). Expect 550 hp and 502 lb-ft of torque plus a whole host of engineering upgrades to make the package work on top of the longer XF Sportbrake platform.
The photo, leaked through British publication Autocar, features a familiar front facia with wide air vents and two bonnet vents. Chrome accents have been coloured black and the body wears the same iconic blue as the XFR-S sedan. The wheel arches are slightly wider and you can almost certainly expect a set of larger wheels. We're not sure yet whether the Jaguar XFR-S Sportbrake will get rear air suspension like its serial counterpart, but we suspect not.
Expect performance figures similar to those of the Jaguar XFR-S Sedan, 0-100 km/h in 4.6 seconds and a top speed in excess of 180 mph. We'll let you know as and when the new Jaguar XFR-S Sportbrake becomes official. You can be certain that we will also provide you with live photos from the Geneva Motor Show 2014.