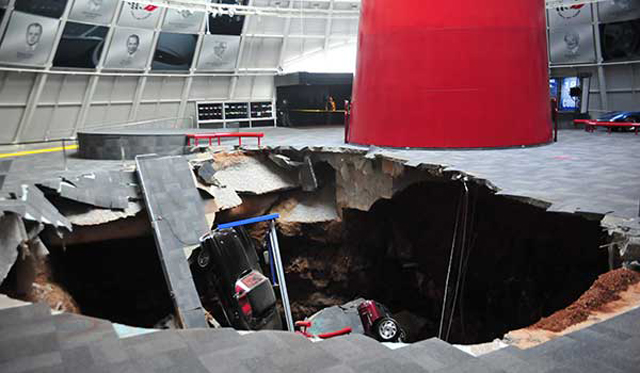 The eight Corvettes damaged after being swallowed by a sinkhole at the National Corvette Museum, are set to be displayed from April through to July in their damaged states. This follows on from recent confirmation that Chevrolet will fully restore all the classic and modern Corvettes damaged or totalled by the 12-meter sinkhole in the summer months.
The process of recovering the cars from the sinkhole has yet to commence, but when it does, visitors will be able to the see the full carnage caused by the sinkhole. After the display period, they will be delivered to the Mechanical Assembly facility. This small shop within GM Design will lead the restorations. For those that didn't know, GM Design already maintains and restores classic GM cars of all eras.
The cars which were swallowed and damaged include a 1993 ZR-1 Spyder on loan from GM, a 2009 ZR1 "Blue Devil" on loan from General Motors, as well as six other cars from the National Corvette Museum including a 1962 black Corvette, 1991 White 1 Millionth Corvette, 2009 1.5 Millionth commemorative Corvette and a 2001 Mallett Hammer Z06 Corvette.
As it stands, the Skydome where the sinkhole was located is closed. However, the rest of the museum remains open to the public.