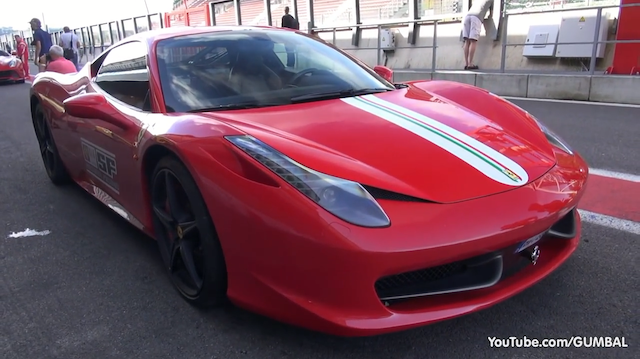 The Ferrari 458 Italia has redefined the supercar sector. The V8 mid-engined Italian car pushed the boundaries of usability and speed but still remained emotionally enthralling. Much of the experience is dominated by the deep bellow that the masterpiece of an engine produced. Here we have a very good looking rosso 458 complete with a very cool Challenge Stradale style stripe but it is the Novitec Rosso exhaust system is grab the most attention.
[youtube]http://youtu.be/YsS5C-6rBDY[/youtube]
The video above shows the sublime sounding beast pounding round the legendary Spa Circuit in Belgium. The Ferrari features beautiful lightweight design and a 4.5 liter V8 that produce 562bhp. The 458 will smash past 100km/h in just 3.4 seconds onto a top speed of 325 km/h all whilst producing drama that only a Ferrari can!