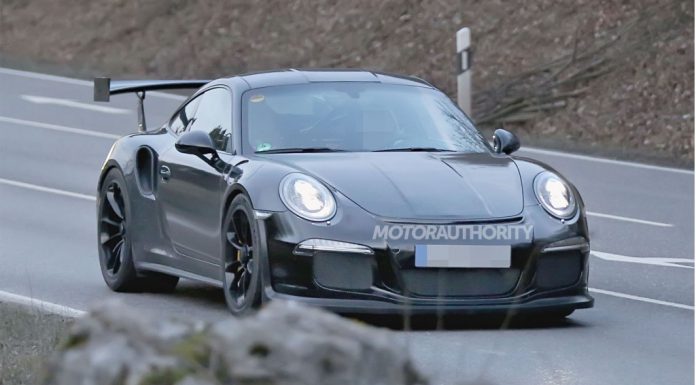 The 2014 Porsche 911 GT3 is already one of the fastest and most capable sports cars on the market. While not available with a traditional six-speed manual transmission, its revised PDK 'box has garnered a lot of praise. However, as is the way with Porsche, the German automaker is currently working on the next-generation 911 GT3 RS and it has been spied testing under minimal camo.
Visually, the prototype you see clearly features a wider track than the standard Porsche 991-generation 911 GT3 and features a massive rear wing. However, it is unlikely that the exact rear wing you see on this prototype will make it onto the production car. Additionally, this 2015 Porsche 911 GT3 RS prototype is sporting a larger front splitter. With these aerodynamic improvements, downforce of the new GT3 RS could be up be around 50 per cent when compared to the 'regular' 991 GT3.
Under the hood, the latest Porsche 911 GT3 RS will see a slight power increase from the standard car pushing the total figure towards the 500 hp mark. It will also feature different gear rations and should be able to sprint to 100 km/h in around 3.5 seconds. Understandably, top speed will be slightly decreased due to the increase downforce.
Arguably the most exciting piece of info about the new GT3 RS is the fact that it could be available with a manual transmission!
A debut in the coming months is likely.
[Via Motor Authority]