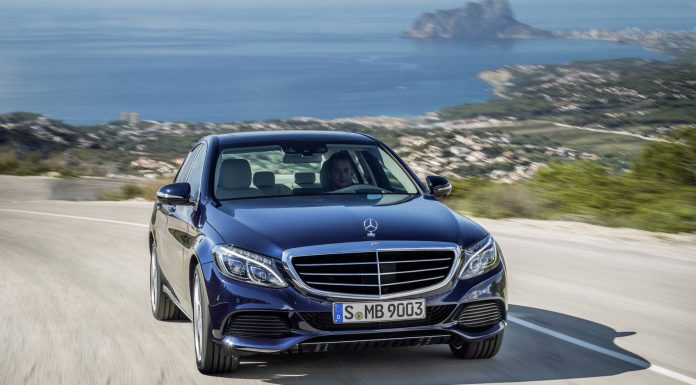 While we've yet to even see the new 2015 Mercedes-Benz C-Class is sedan specification, it has emerged that a Convertible variant is likely to be offered in the future. This would make complete since as the next C63 AMG will have to compete with the new M3 and M4 and all the variants they will be available in.
Previously, it was confirmed that the next C63 AMG will feature a 4.0-liter twin-turbocharged V8 engine. This new engine will continue with Mercedes-Benzes introduction of smaller capacity engines and will eventually replace the current 5.5-liter twin-turbo. For those that didn't know, the AMG 6.2-liter V8 engine has been largely phased out and replaced by the 5.5-liter powertrain.
Currently codenamed M177, the new 4.0-liter twin-turbo V8 is predicted to produce between 454 hp and 493 hp depending on the specification ordered. It will then be mated to the 7G-MCT SpeedShift automatic transmission currently used in a selection of other AMG models.
By comparison, BMW's recently revealed 2014 M3 and M4 features a slightly smaller 3.0-liter twin-turbocharged straight-six engine developing a still adequate 431 hp and 406 lb-ft of torque. When fitted with the optional seven-speed dual-clutch transmission, both cars can sprint to 100 km/h in a mere 4.1 seconds and onto a top speed of 280 km/h.
It's worth noting that unlike recent Mercedes-AMG models, the C63 AMG will not be available in all-wheel drive. When discussing this, AMG boss Tobias Moers said, "There will be no four-
wheel drive on the C63. You should never say never, but for the foreseeable future, we will not offer it on the C63 AMG, either as standard or as an option."
[Via Autocar]