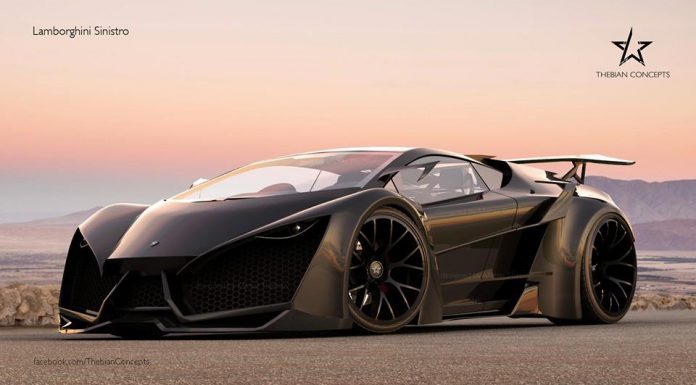 What if you took the Lamborghini Sesto Elemento, blended it with elements of the new Lamborghini Huracan and started it on a high-dose course of LSD? You would probably end up with the Lamborghini Sinistro Black Spec, recently released by Thebian Concepts!
The Lamborghini Sinistro Black Spec is Thebian Concepts' rendering of a future Lamborghini model. Far from the sedate, Audi-fied Lamborghini models of today, we get something that looks as though it belongs in an eight-year old's wildest fantasies.
The most eye catching feature is the aerodynamic scoops and wings applied to the left and right side, together with the razor sharp side view mirrors. The front features massive vents either side of a dramatically sloping central section.
Massive wheels and a Lamborghini LP670-4 SV wing characterise the rear of the car. Huge wheels give a flush effect with the fenders. Don't ever expect to see this model on the forecourt of your local Lamborghini dealership. Those of you with a keen eye will recognise the Lamborghini Sinistro Black Spec from earlier renderings. The black suits it better we think!