German supercar dealership, Amian Cars revealed that they have the unique Pagani Zonda GJ for sale. This particular car was rebuilt by the factory following a crash in Scotland back in 2010. It was originally offered for sale at auction but has since been sitting at the factory after it failed to find a buyer.
The car started life as a Pagani Zonda S 7.3 litre with a silver exterior and a black interior. After the accident, the owner received a record payout from British insurance company Aviva. The was then taken to Pagani where engineers replaced all body panels with carbon fibre parts and repaired any damage caused by the accident.
The car then left the factory as a Pagani Zonda GJ. It features parts from the Pagani Zonda F and Pagani Zonda R. When it left the factory it was fitted with a matte black wrap. It now wears naked carbon fibre and a red stripe along the lower panels!
It features the ram air intakes of the Pagani Zonda Cinque together with its canards and italian flag design side view mirrors.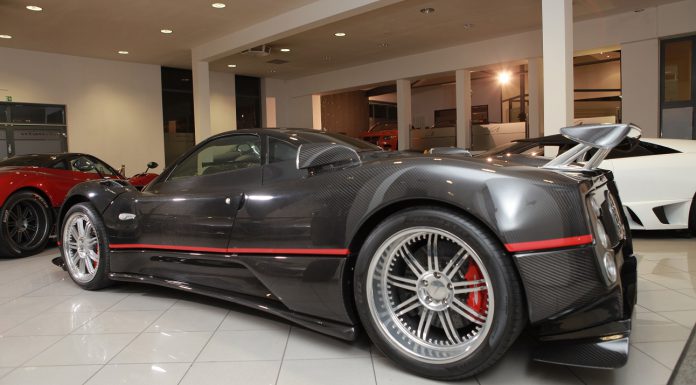 It is a 2004 with 24,200 miles on the clock. The engine now puts out a healthy 625 hp coupled to a 6-speed manual gearbox. If you want to take a look at the advert, head over to Amian Car's website.
[Via Prototype Zero]