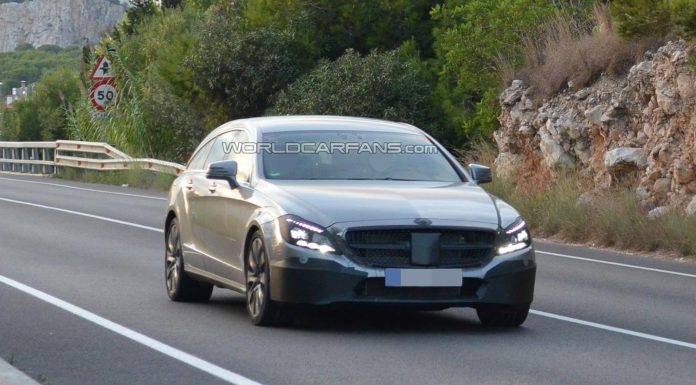 Daimler CEO Dr. Dieter Zetsche has confirmed that the long-awaited facelifted Mercedes-Benz CLS we have seen testing on numerous occasions in recent months will in fact debut in October.
While recently speaking at Daimler's recent annual press conference, Zetsche specifically revealed that both the new 2015 Mercedes-Benz CLS Sedan and CLS Shooting Brake will debut alongside each other. We suspect a debut in late October has been chosen before the cars debut publicly at the Los Angeles Auto Show 2014 in mid-November.
As for different engine options and other variants of the new Mercedes-Benz CLS, details are limited. However, we can say the range-topping CLS 63 AMG version is set to feature a 5.5-liter twin-turbo 5.5-liter V8 engine producing an impressive 557 hp and 720 Nm of torque. In addition to the standard CLS 63 AMG Shooting Brake model, we can expect to see an S-Model arrive soon after. This slightly upgraded version will feature the same engine but will see power rise to 585 hp and an incredible 800 Nm of torque.
Because the car is a facelifted model rather than a completely new generation, visual changes both inside and outside will only be minor. Inside, spyshots have previously confirmed that it will utilise Mercedes-Benz's newly designed infotainment system and large LCD screen dubbed COMAND. Also in the cabin, a revised multi-function sports steering wheel will be used.
[Via World Car Fans]