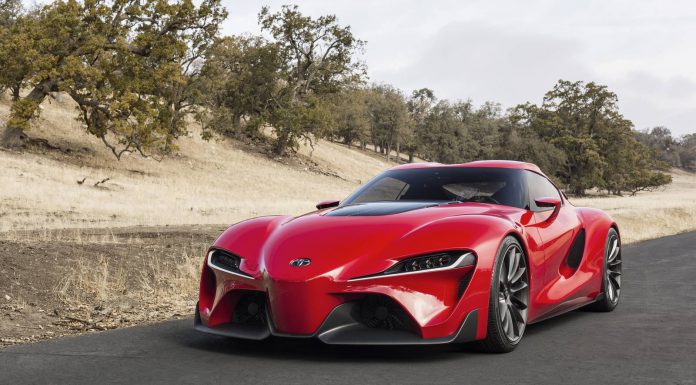 According to Australian publication Motoring, the Toyota FT-1 Concept which debuted at the Detroit Motor Show 2014 last month has been confirmed as the long-awaited next-generation Toyota Supra.
When the dramatically designed Toyota FT-1 was first revealed, Toyota said it was created to help celebrate the 40th anniversary of the Calty design studio while also paying tribute to the Vision Gran Turismo project many other automakers have participated in. Despite this, even before the car was unveiled to stunned eyes at Detroit, speculation was stirring suggesting that it was in fact the next Toyota Supra sports cars. Now, those speculations seem to be correct.
Beyond this possible confirmation, nothing is known about the production-spec FT-1. However, it will inevitably feature much less outlandish styling both inside and outside than the concept and will feature an engine driving the rear wheels. However, unlike previous generations of the Toyota Supra, the latest one will be more upmarket than ever before and will likely utilise a 2.5-liter turbocharged V6 hybrid powertrain delivering around 400 hp.
In addition to this confirmation, Toyota is also said to be creating another new sports car to sit below the entry-level GT86. Said to be priced at around $16,000 in the United States, the development of the new sports car will be led by GT86 chief engineer Tetsuya Tada. This entry-level sports car could utilise the same turbocharged 2.0-liter petrol engine as the upcoming Lexus NX SUV.
[Via Motoring]