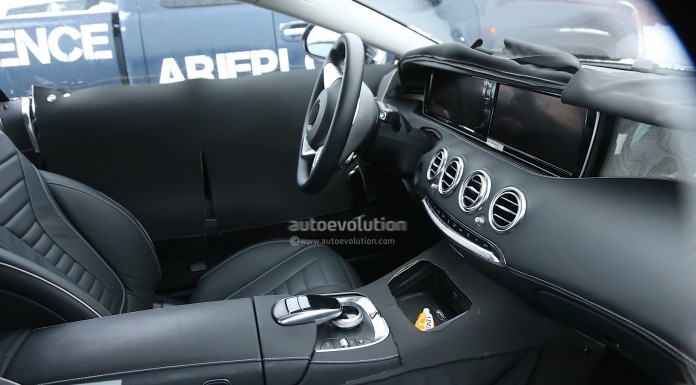 With the debut of the production-spec 2015 Mercedes-Benz S-Class Coupe edging ever closer as the Geneva Motor Show 2014 approaches, more details about the car are being learned thanks to new pictures. Recently, we saw the first official photo of the car from a Daimler presentation and now we have our first look at the luxurious interior of the S-Class Coupe.
As you would imagine, the interior of the Coupe maintains many of the same design elements and features of the S-Class Sedan. This means it features the same massive two LCD screens stretching across the dashboard displaying every infotainment and navigation functions along with all the instrument panels as well as electronic gauges.
One slightly revised feature present on this Mercedes-Benz S-Class Coupe prototype is the three-spoked steering wheel with a large centre.
In terms of specifications, we can expect to see the same versions as the S-Class Sedan. These will include a Mercedes-Benz S500 Coupe powered by a twin-turbocharged 4.7-liter V8 engine producing 455 hp. An S550 variant will then join it. Additionally, there will be an S600 Coupe with a massive 530 hp 6.0-liter V12 engine while an S63 AMG and S65 AMG variants will also be available. The S63 will feature a 5.5-liter twin-turbo V8 with 585 hp while the S65 AMG Coupe will feature a potent 630 hp twin-turbocharged 6.0-liter V12!
[Via Auto Evolution]