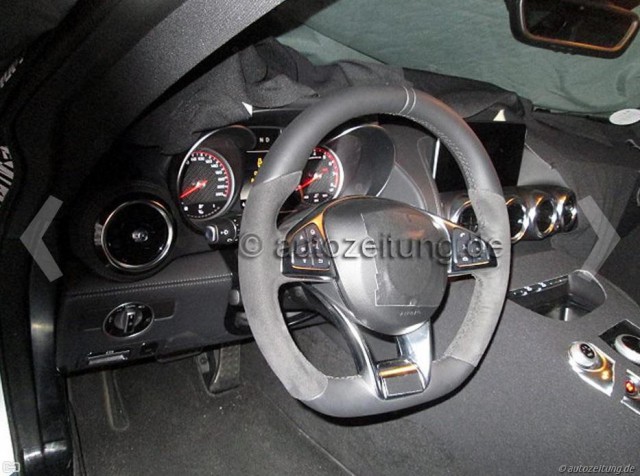 With the impending release of the highly anticipated 2015 Mercedes-Benz AMG GT edging ever closer, the interior of a prototype has been snapped for the very first time.
Starting with the gauge layout, it is very similar to the outgoing Mercedes-Benz SLS AMG and if you look closely, the speedometer stretches all the way to 220 mph! The most dramatic design changes compared to the SLS AMG come on the rest of the dashboard and the centre console.
The Mercedes-Benz AMG GT prototype here is sporting a similar LCD screen as to those found on all recent Mercedes-Benzes bar the new 2014 S-Class. For the A-Class, CLA, GLA and C-Class, this display is available in different sizes so a similar option may be available for the AMG GT.
The dash also features four prominent air vents and the centre console features two drink holders and Mercedes-Benz's new computer style mouse to navigate the infotainment system with a host of different buttons surrounding it.
While the Mercedes-Benz AMG GT won't act as a direct successor to the SLS, it will replace it at the top of the Mercedes-Benz range and is set to take the fight to the Porsche 911 range. Two or three engines are said to be available with each delivering different power outputs and wearing different price tags. The range will be topped out be a twin-turbocharged 4.0-liter V8 engine set to produce around 500 hp and upwards of 570 hp in Black Series specification.
While the release of the AMG GT is still quite a few months away, one other key detail is known about it. These reports suggest that it will be significantly smaller than the SLS AMG and consequently, will weigh less. All up, the 2016 Mercedes-Benz AMG GT could tip the scales at just 3,300 pounds thanks in part to the new aluminium spaceframe. By comparison, the SLS AMG weighs over 300 pounds more.
The latest reports suggest a debut at this year's Formula One German Grand Prix is likely.
[Via Autozeitung]