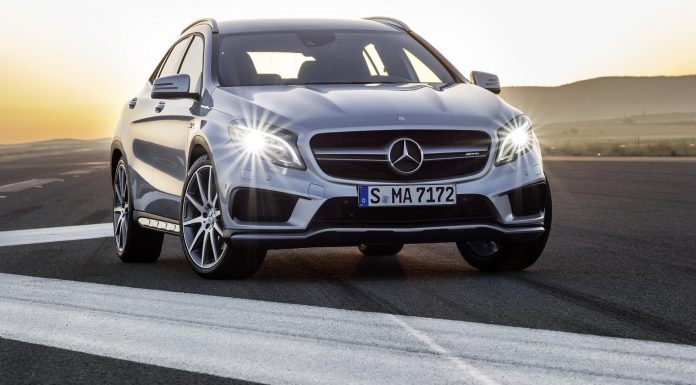 With the recent release of the Mercedes-Benz GLA, we thought that the German automaker well and truly had the low end of the luxury SUV market covered. Well, as it turns out, Mercedes-Benz is currently working on an SUV to sit below the GLA currently known as the X-Class.
Set to rival the Audi Q5 and BMW X3, the Mercedes-Benz X-Class will be even more compact than the Mercedes-Benz GLA and from what we can guess, will effectively be a slightly more off road capable version of the new A-Class based purely on how similar the two will be in size.
Mercedes-Benz GLA 45 AMG

As it stands no further details of the upcoming Mercedes-Benz X-class are known. However, when it is released, expect the same selection of variants available on most other entry-level Mercedes-Benz cars. Consequently, an AMG version is very likely.
As a reminder, the Mercedes-Benz GLA 45 AMG does not fail to impress thanks to its tiny AMG 2.0-litre turbo engine, that delivers a more than adequate 360 hp and 331 lb-ft of torque transferred to the 4MATIC all-wheel drive system via a seven-speed AMG SPEEDSHIFT DCT transmission. Consequently, it will sprint from zero to 100 km/h in just 4.8 seconds and an electronically limited top speed of 250 km/h.
Despite such ferocious performance, it will even sip just 7.5 litres per 100 kilometres of fuel. Mercedes-Benz says the GLA 45 AMG is the third vehicle with four-cylinder turbo engine to appeal to a young target group, in addition to the A 45 and CLA 45 AMGs. Joining this list after 2016 sometime could be the Mercedes-Benz X-Class AMG.
[Via Auto Express]