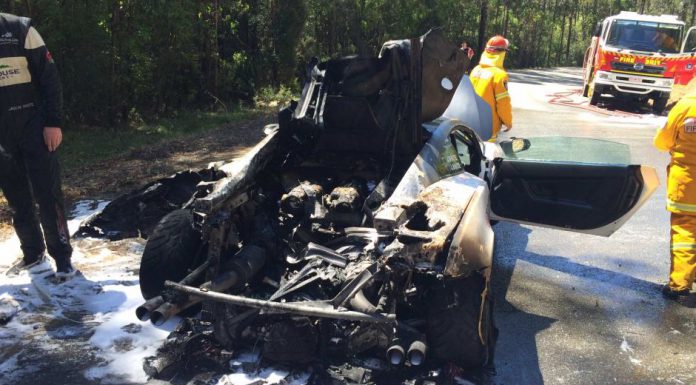 Remember that Lamborghini Gallardo Super Trofeo Stradale that crossed the finish line on fire a few years ago during Targa High Country? The video of Jason White's Lamborghini Gallardo Super Trofeo Stradale went viral at the time. Unfortunately, we have bad news to share with you. The car burnt to the ground recently near Geeveston during the fourth stage of this years Targa Wrest Point competition.
Jason won the Targa Tasmania with this car in 2010, 2012 and 2013. Jason had also dominated the Targa Wrest Point, winning all events since 2010. Unfortunately, his winning streak looks to have now come to an end. The car was completely destroyed by the fire and looks beyond saving. Fortunately, both driver and passenger walked away from the incident without injury.
[youtube]http://youtu.be/9eiukrQpFnI[/youtube]
Targa Wrest Point takes place this weekend (01 February – 02 February). Targa Wrest Point is a tarmac-based rally event that takes place in Tasmania, Australia on an annual basis. Entrants cover 200 competitive kilometres in two days over sixteen closed road competitive rally stages.