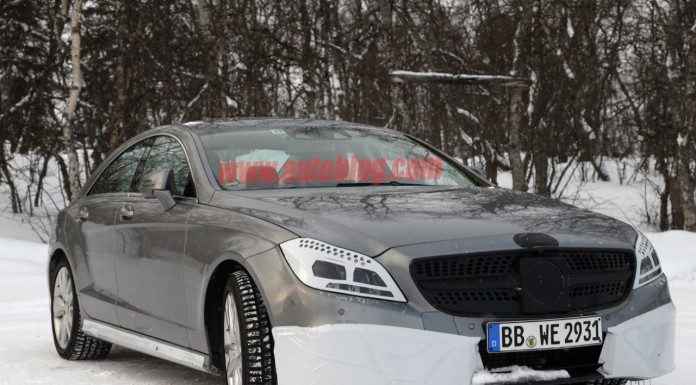 The facelifted Mercedes-Benz CLS has been spied testing yet again albeit this time in the snow and with more camouflage at the front than previously seen.
The model you see pictured is believed to be just a regular version of the Mercedes-Benz CLS whereas previous spy shots have shown the upcoming CLS 63 AMG variant. Nevertheless, the car features a slightly revised front bumper with new dual front air intakes and a slightly revised central splitter and grille.
Spy photographers this time around managed to snap the interior of the new Mercedes-Benz CLS and they can be viewed by checking out the link below. The interior will utilise Mercedes-Benz's newly designed infotainment system and large LCD screen dubbed COMAND. Also in the cabin, a revised multi-function sports steering wheel will be used.
As for variants and different engine options for the new Mercedes-Benz CLS, details are limited. As for the CLS 63 AMG version, it is set to feature a 5.5-liter twin-turbo 5.5-liter V8 engine producing an impressive 557 hp and 720 Nm of torque. In addition to the standard CLS 63 AMG Shooting Brake model, we can expect to see an S-Model arrive soon after. This slightly upgraded version will feature the same engine but will see power rise to 585 hp and an incredible 800 Nm of torque.
[Via Autoblog]