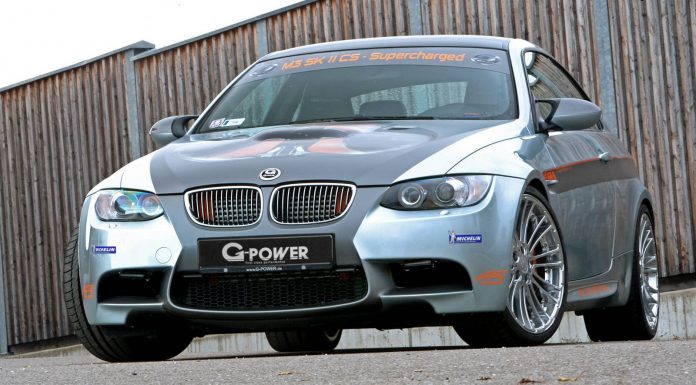 The new BMW M4 may have been released now, however, German tuning firm G-Power is still breaking records with the old V8 powered BMW M3! G-Power recently release the G-Power BMW M3 SK II CS Hurricane 337 Edition; a mouthful, we know!
The Hurricane 337 Edition (as it is probably best known) set a top speed of 337,6 km/h, hence the name! The speed was set at Nardo in southern Italy on the 12.3 km-long circle. G-Power drove the car 1,500 km to Nardo to prove its durability and ran the car in a customer setup with no modifications. In setting the record time, G-Power broke their own 2 year old record. Set with the 570 hp SK II supercharger system at 333,1 km/h.
The Hurricane 337 Edition gets a package of carbon add-ons and a unique "Hurricane 337 Edition" graphic design for the air box. Just 30 systems will be offered for sale.
The BMW M3 V8 gets a powerful ASA T1-523 radial supercharger, a high-flow air intake with a racing air filter, a large volumetric intercooler system made from cast aluminium and a cast aluminium air box. Boost is set at 0,5 bar for a power output of 615 hp and 595 Nm of torque. It also features a full titanium exhaust system including a set of racing catalytic converters, saving 26 kg compared to the factory exhaust system.
[youtube]http://youtu.be/R8nQefEuwZY[/youtube]
The car in the pictures is a customer car which features G-POWER G3M Clubsport coilover suspension, a G-POWER breaking system with 396 mm discs at the front and 380 mm discs at the back and a set of 20 inch Silverstone Diamond wheels wrapped with Michelin Pilot Sport tires.