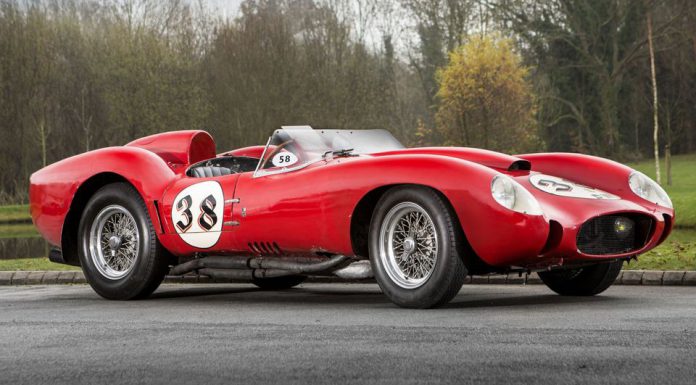 Ferrari's with successful competition history have traditionally sold well both privately and at auction. When rumours about a £24.8 million Ferrari 250 TR passed our desk, we weren't all that surprised. The car was apparently sold by Tom Hartley Junior, a British Luxury and Performance Car Dealer. He celebrated on twitter by announcing he had "sold one of the most important cars in the World today if not the most important!" The hashtag "#worldrecordstuff" says it all!
So what makes this car so important? For starters, it is the only unrestored Ferrari 250 TR in existence. This particular car is chassis number 0704TR which had a colourful competition history. It was one of the Ferrari 250 TR prototypes, the second of the TR run and one of two factory-owned cars. The car was built on the chassis of a Ferrari 500 TRC.
The car competed in the 1957 24h Le Mans but failed to finish, after which time, its experimental 3.1 litre V12 was transplanted with the 3.0 litre V12. It then went on to a 4th place finish in the 1,000 km in the same year. Success came in 1958 at the hands of the Phil Hill/Peter Collins combination with overall victory in the 1,000km Buenos Aires, victory in the 12h Sebring race and 4th in the Targa Florio. To round off that year, Mike Hawthorn and Peter Collins drove the car to 2nd in the 1000km Nuerburging race.
After its racing years, an American owner donated the car after he died in 1967 to the Ford Dearborn Museum where it sat for 30 years. Tom Hartley Junior had purchased the Ferrari from collector, Eric Heerema. Eric Heerema also owned the green Ferrari 250 GTO which he also recently sold for a rumoured record price of $35 million. Before Heerma It features a 3.0 litre V12 engine with a power rating of 300 bhp.