Last week we reported on a very unique Verde-Kers-Lucido Ferrari 458 Spider that had become stuck on a beach in Exeter, UK. The beached 458 Spider was the subject in a photo shoot for Ferrari's official in house magazine when it implanted itself into the sand on the North Cornwall coast.
A GTspirit reader has now sent us photos of that very same car, this time parked next to the Torquay Marina in Devon, UK. The car was part of the annual Super Weekend event held in Torquay, which includes a car, bike and boat show as well as live music and other attractions.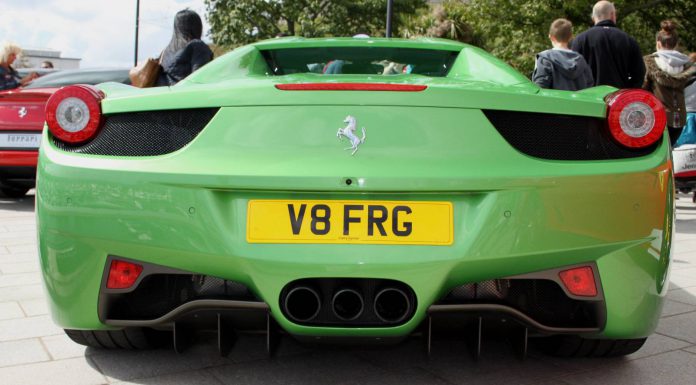 Seeing as the car is pictured with a very fitting "V8 FRG" number plate, these pictures must be from before it went up for sale at Carr's Ferrari in Exeter. We have to say, it looks much better parked against the English Riviera than it did when it was stuck in the sand!