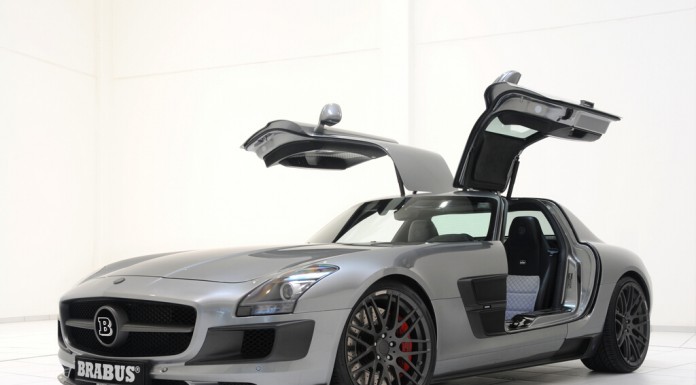 A rare 2011 Brabus SLS AMG 700 BiTurbo is currently up for sale via Excalibur Deutschland with a fairly hefty asking price of 249,995 euros.
However, as the name suggests, this Mercedes-Benz SLS AMG is not just a regular one and has been extensively upgraded inside and out courtesy of tuning specialists Brabus. Whereas the standard SLS AMG features a naturally aspirated V8 engine, the Brabus SLS AMG 700 BiTurbo features two turbochargers. As a result, it delivers a total of 700 hp at 6,600 rpm and peak torque of 850 Nm at 4,300 rpm. As a result of this, the car can sprint to 100 km/h in a mere 3.7 seconds and 200 km/h in just 10.2 seconds before topping out at 340 km/h!
The turbochargers used actually rotate different ways; the left side turning left of the engine and the right side turning right. Brabus claims this solves the issue of turbo lag making the car more responsive under acceleration.
High-performance exhaust manifolds, a custom water-to-air intercooler system and specially manufactured forged pistons have also been added. All modifications have been optimised by ECU upgrades and an integrated electronic boost pressure control. Even with the modifications, the 700 BiTurbo still meets strict emission limits set by EURO V standards.
A new free-flow high-performance exhaust system has also been installed featuring four slanted tailpipes. This is manufactured from ultra-light titanium and weighs 12 kg less than the production exhaust. A butterfly-type valve system can be controlled from the cockpit to give the appropriate soundtrack.
Unfortunately, no exact mileage for this Brabus SLS AMG 700 BiTurbo has been released. However, it is claimed to have just delivery miles on the clock.
Contact us if you want more info!