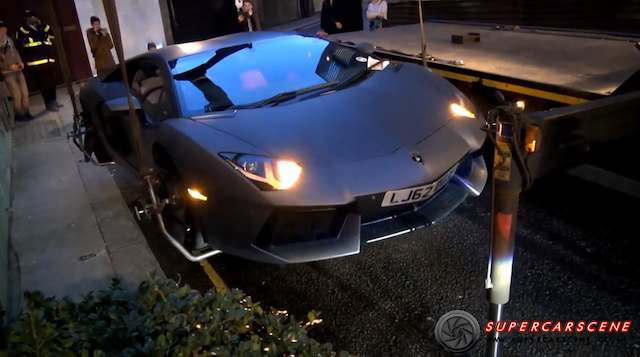 Lamborghini owners in London tend to not care much for parking restrictions in the city. Exotic cars are often seen parked illegally and littered with parking tickets or in worse cases, clamped. Here, however, we have a video of a beautiful matte grey example being impounded.
[youtube]http://youtu.be/MdBKTKwgBlQ[/youtube]
As you can see the car was lifted onto a flatbed lorry just around the corner from the famous Harrods department store!
Just to refresh your memory, the Aventador features a new 6.5 liter V12 engine that produces 700 hp at 8,250 rpm and 690 Nm of torque at 5,500 rpm. Using thrust mode – Lamborghini's version of launch control – allows you to reach 100 km/h in less than three seconds, 2.9 to be precise and 0-200 km/h is done in a staggering 8.9 seconds flat. In the right environment you will keep accelerating all the way up to 351 km/h and pull 1.3 G when braking from 100-0 km/h. Phenomenal figures indeed!