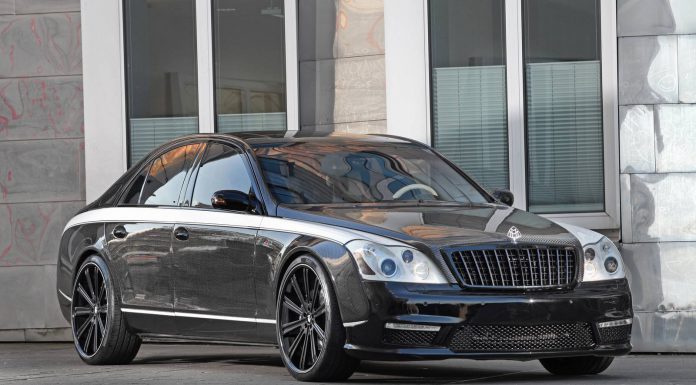 The Maybach brand may be lying dormant now under the DaimlerChrysler AG company umbrella, yet interest is still very much alive in some areas. Knight Luxury Inc. have announced their own take on the Maybach 57S, having spent quite a while revamping the interior and exterior!
Knight Luxury Inc. is a US-based company headquartered in Miami, Florida. Their package for the Maybach is particularly interesting and requires the car to be shipped to Germany for finishing.
To start with, Knight Luxury Inc. fits a completely new, sportier front and rear apron complete with front LED daytime running lights and an integrated carbon diffuser. Both bonnet and boot lid are constructed from ultra-lightweight, high-strength carbon fibre. The A-, B- and C-pillars, all four wings and all doors are all finished in carbon and rear spoilers are fitted to the tailgate and rear window. Under the bonnet, Knight Luxury fits a carbon fibre engine cover and air filter boxes.
The Maybach 57S "Sir Maybach" gets three-piece 24-inch wheels. They measure 9.5 x 24 inches at the front and 10 x 24 inches at the rear. The rims feature a carbon fibre effect finish with a black power coating and white pinstripes. Pirelli tires are fitted in size 285/30 R24 all around. Brake callipers are coloured white.
An electronic lowering module has been fitted to the Maybach 57S "Sir Maybach" and underbody LED's line the exterior together with four projectors displaying the Knight Luxury logo. A 4-pipe sports exhaust system with valve control boosts the volume and power of the engine all the way up to 712 hp.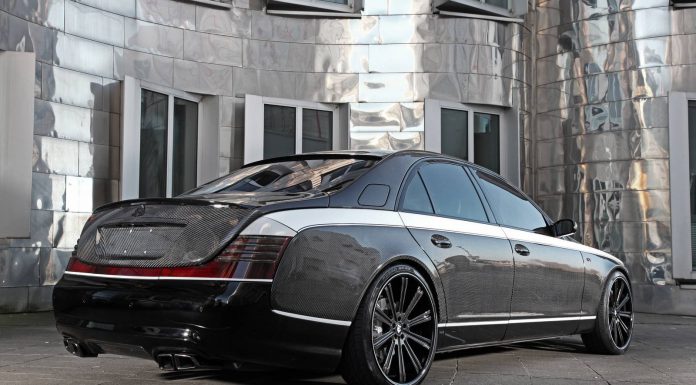 The interior of the Maybach 57S "Sir Maybach" is similarly impressive. The dashboard has been reupholstered to include black and white leather with carbon fibre accents. Inside, the doors, foot space and door sills get diamond stitching with the Knight Luxury logo embroidered on the seats, the center console and the floor mats. Even the trunk is covered in leather with carbon diamond stitching. The headliner is also covered in leather with diamond stitching Alcantara.
Elsewhere, personalised door handles can have custom printed logos. Tinted side and rear window glass has been fitted, door sills now feature custom paints and 28 parts were replaced by white carbon fibre and 39 parts in black carbon.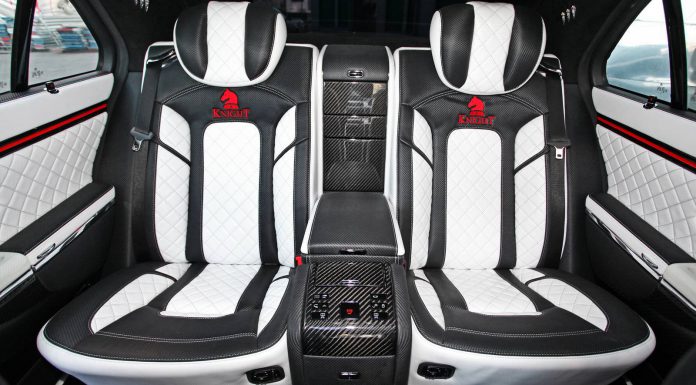 Infotainment is provided by Apple devices including an Apple TV module and two iPads with Apple keyboards. These have been directly connected to the Command system. The sound system also gains a modified subwoofer and amplifier. Elsewhere, a rear-view camera, a mobile LTE wireless module and a GPS tracking module have also been included.
Pricing details for the Maybach 57S "Sir Maybach" haven't been released, although we suspect each car will be built on an individual basis for a cost in excess of $1 million.