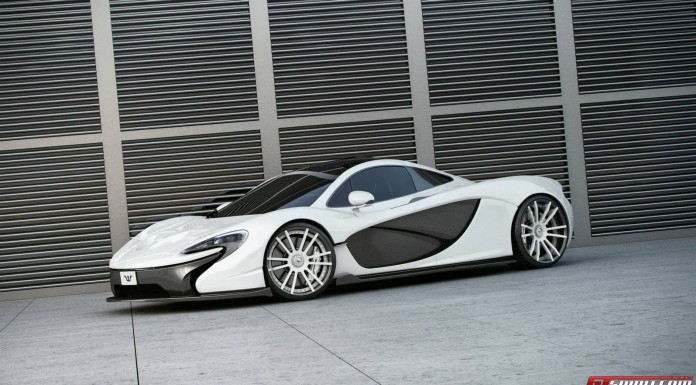 The McLaren P1 represents the pinnacle of automotive genius. The British supercar builder shocked the industry with the car's radical design and staggering pace, something GTspirit recently experienced! The car is faster than we ever imagined and the Porsche 918 Spyder and Ferrari LaFerrari will have to be mighty special to trump the McLaren P1.
The styling of the car is like nothing we have seen before but that has not stopped Wheelsandmore from having a go at making the P1 even more striking. The pictures you see here are renderings of what one of the 375 McLaren P1's would look like with a Wheelsandmore design. These are billed as one of the lightest multipiece 20 and 21 inch wheels on the market today and are rotating in 9,0×20 inch size on the steering and 12,0×21 inches on the rear axle. The center-lock design and the concave wheelcenter design will certainly be drawing more attention to the insanely fast supercar.
As a reminder, the P1′s powerplant generates an astronomical combined output of 903 bhp. It gets a very efficient 3.8-litre twin turbo V8 petrol engine and a lightweight electric motor. The remarkable acceleration, delivered as a result of the instant torque offered by the electric motors and the optimized turbos, results in the hand-built car reaching 100 km/h in a stunning 2.8 seconds, 200 km/h in a scarcely believable 6.8 seconds, and 300 km/h (186 mph) in just 16.5 seconds. This is a staggering 5.5 seconds faster than the legend that is the McLaren F1. Top speed is electronically limited to (just!) 350 km/h.