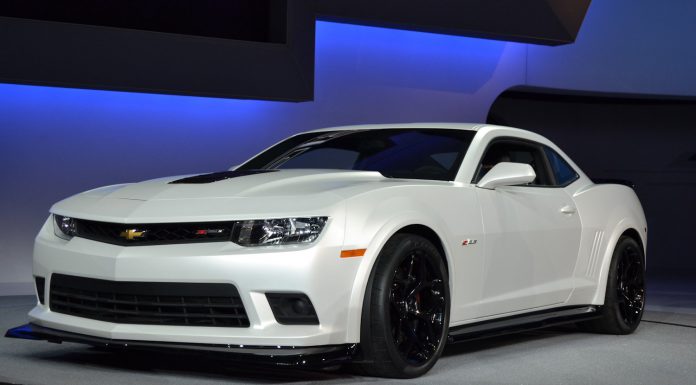 Following on from the very first 2014 Chevrolet COPO Camaro selling for $700,000 at the Barrett-Jackson Scottsdale auction, the first production-spec 2014 Chevrolet Camaro Z/28 also achieved a pretty penny. As a matter of fact, when the final hammer dropped, one keen Camaro enthusiasts purchased the car for $650,000.
The man behind the buy was actually Rick Hendrick who currently owns a NASCAR team as well as a host of Chevrolet dealerships, so Camaros are clearly nothing foreign to him. All proceeds from the sale will directly benefit Cornerstone Schools in Detroit.
2014 Chevrolet Camaro Z/28 at Detroit

While it was inevitable that the first 2014 Chevrolet Camaro Z/28 would always attract some high bids, $650,000 is more than anyone could have expected. As a matter of fact, pricing for the new Camaro Z/28 starts at just $75,000, so Hendrick well and truly paid enough for the privilege of owning the very first!
Under the hood, the 2014 Chevrolet Camaro Z/28 features a similar 7.0-liter LS7 V8 engine as present in the previous-generation Chevrolet Corvette Z06 with it delivering 500 hp and 470 lb-ft of torque. Consequently, the car is three seconds faster around GM's test track than the Camaro ZL1.
In order to reduce weight of the car, Chevrolet went about thinning the rear window to only 3.2mm from 3.5mm, and removed the HID headlights and fog lights. As a result of these changes, the 2014 Chevrolet Corvette Z/28 weighs a substantial 300 pounds less than the ZL1 and an impressive 100 pounds less than the performance-oriented Camaro SS variant.
As a result of these features among others, the Z/28 recently lapped the famous Nurburgring just 7 minutes, 37.47 seconds a few months ago. To put that into perspective, it's faster than the 2010 Porsche 911 Turbo, Ferrari 430 Scuderia, Lamborghini Murcielago LP640, Mercedes-Benz SLR McLaren and even the Lexus LFA. Additionally, it's about 4 seconds faster than the Camaro ZL1 and the 2009 Corvette ZR1 as tested by Sport Auto!