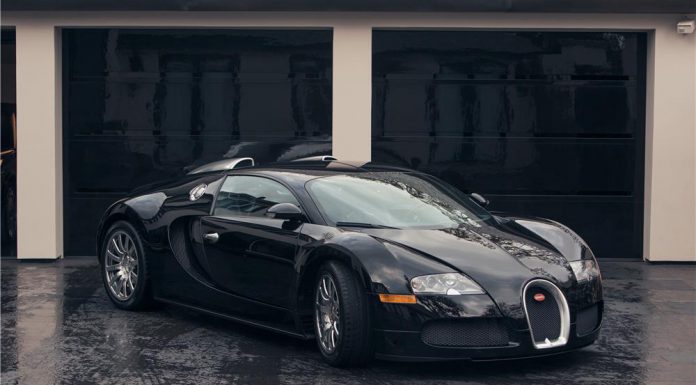 The unique black Bugatti Veyron once owned by Simon Cowell officially sold at the ongoing Barrett-Jackson auctions in Scottsdale. Going into the auction with an unknown reserve price, it was anyone's guess as to whether the car would actually sell and for how much.
Unsurprisingly, the car did sell, with this stunning all-black Veyron selling for an impressive $1.375 million including the buyer's commission.
For those that didn't know, Cowell purchased his black Veyron new from Bugatti Beverly Hills in 2008 and in that time it has covered just 1,300 miles. The full black exterior and black interior also make this one of only a handful of black on black Veyrons in the United States and the entire world.
Making this Bugatti Veyron even more unique and worthy of the $1.375 million is that it is the first ever certified used Veyron sold. What this basically means is that the car was fully inspected by Bugatti engineers before hitting the auction block. Additionally, it came with four brand new tyres and a full one-year, extended factory warranty.
As for the powerplant, it is the same as all 'regular' 16.4 Veyrons. That means it is an 8.0-liter W16 engine combining four turbochargers. This powertrain can crank out an incredible 987 hp which in the Super Sport and Vitesse models, is increased to 1200 hp. The engine is then mated to one of the world's best 7-speed automated dual-clutch transmissions driving all four wheels and helping to rocket the car to 100 km/h in just 2.5 seconds and a top speed of 253 mph!