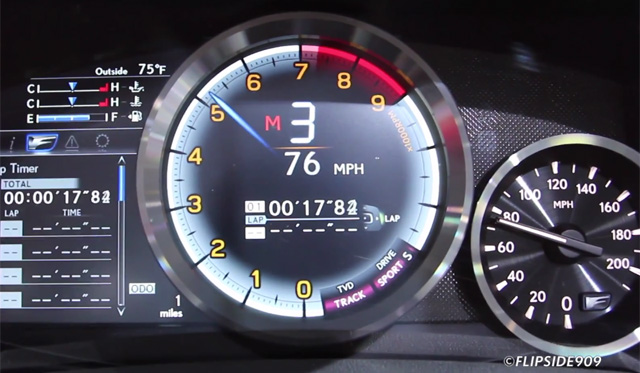 The incredible Lexus LFA reinvented how we look at car gauges with its insane electronic display. Originally utilised because the 4.8-liter V8 engine revved so quickly an analog dial couldn't keep up, it ushered in a new revolution for LCD gauges. Nowadays, almost all new supercars and many new sports cars feature at least some of electronic gauge or GPS unit in the cluster.
[youtube]http://www.youtube.com/watch?v=aWn6NVECFV8#t=25[/youtube]
The latest car to receive a similar display to the LFA's is also from Lexus in the form of the 2015 Lexus RC F Coupe. Put on display at the Detroit Motor Show 2014, the new display provides the perfect combination of electronics working in conjunction with a traditional speed dial. Be sure to watch it in action by checking out the video above!
The F performance model, based on the RC coupe, gets its roar from more than 450 horsepower and more than 383 pound-feet of torque all courtesy of an all-new 5.0-liter 32-valve V8 engine that will provide increased maximum power at higher engine rpm than previously possible. This engine is the most powerful V8 engine the Japanese marque has ever constructed. Lexus say that the car should weigh in at under 1,800 kilograms. The RC F will be limited to a top speed of 270 km/h.
The car that the RC F will surely be compared to is the BMW M4. For some comparison, the M4 produces less power, 431 horsepower but is considerably lighter, just 1,500 kilograms. It will be interesting to see which will come out on top on track!