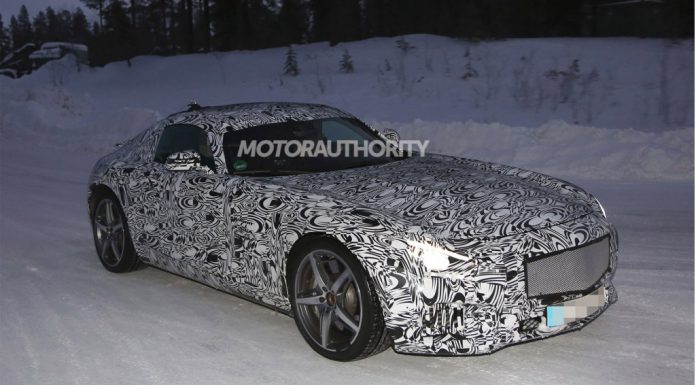 With production of the Mercedes-Benz SLS AMG arguably coming to a premature end following last year's release of the SLS AMG Final Edition, the car's replacement, currently dubbed the 2016 Mercedes-Benz AMG GT has been spied testing again. The latest spyshots showcase the upcoming sports car testing in the snow.
While the release of the AMG GT is still quite some time away, quite a few details are known about it. These suggest that it will be significantly smaller than the SLS AMG and consequently, will weigh less. All up, the 2016 Mercedes-Benz AMG GT could tip the scales at just 3,300 pounds thanks in part to the new aluminium spaceframe. By comparison, the SLS AMG weighs over 300 pounds more.
The AMG GT will also ditch the gullwing doors of the SLS AMG but maintain an AMG built V8 engine. That engine however, won't be the massive naturally aspirated 6.2-liter unit of the SLS and could be a twin-turbo 5.5-liter V8 or a 4.0-liter twin-turbo V8 engine, the same powerplant to be used in the C63 AMG's successor. It is currently predicted that a selection of different variants will be offered with the most powerful said to deliver around 600 hp, if not even more.
Whichever engine and specification is chosen by the customer, the Mercedes-Benz AMG GT should feature a seven-speed Speedshift dual-clutch transmission.
[Via Motor Authority]