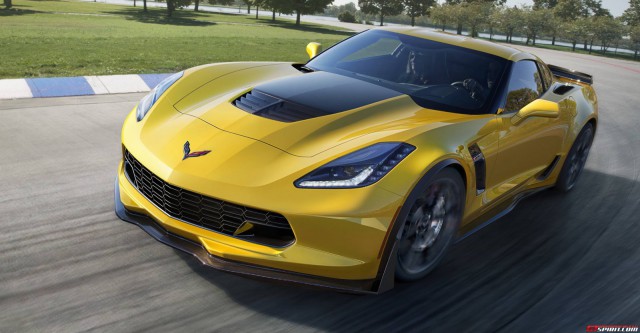 Just yesterday, reports emerged suggesting that Chevrolet currently has no plans to offer a ZR1 variant of the new seventh-generation Corvette. Now, speculation has arisen indicating that while a more potent road-oriented Corvette Z06 isn't on the cards, a track-focused Z06 isn't out of the realm of possibility.
As you may recall, back in 2010, Chevrolet revealed the Z06X at SEMA following a similar train of thought to the Dodge Viper SRT-10 ACR and ACR-X. This Corvette Z06X featured brand new racing wheels, adjustable suspension, a complete roll-cage as well as some extensive aerodynamic improvements to increase downforce most specifically via the large rear wing.
While speaking with Car and Driver at the Detroit Motor Show 2014, Corvette product manager Harlan Charles said, "The idea was a non-street-legal, factory-built track car, and that is something that we are considering would be a great thing to apply to the new Corvette Z06. I mean that's something we could see in the future. We've got a lot of ideas, but nothing to show today, unfortunately."
If such a C7 Corvette ever came to fruition, it would inevitably feature an even more powerful engine. As it stands, the new 2015 Corvette Z05 gets a new, LT4 supercharged 6.2 litre V8 engine which delivers at least 625 horsepower and a staggering 861 Nm of torque. The engine leverages direct injection, active fuel management, cylinder deactivation and continuously variable valve timing to produce that performance. The gearbox choice is between a traditional seven-speed manual or an all-new, high-performance eight-speed automatic transmission with paddle shifters for manual control.
[Via Car and Driver]