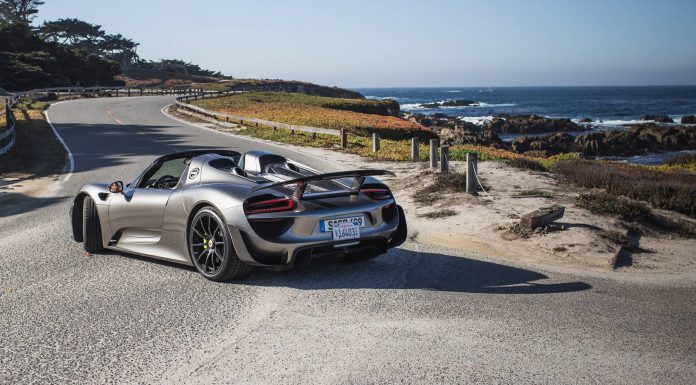 A stunning silver Porsche 918 Spyder fitted with the optional Weissach package was spotted last month in Pebble Beach. It is currently believed that this is a completed production model but it is unknown if it's a customer owned car or simply from a dealership used for promotional purposes.
Either way, it looks absolutely stunning on the edge of the beach! Additionally, when combined with new 10-spoke black wheels and bright green brake calipers we haven't seen previously, this Porsche 918 Spyder is truly gorgeous.
The headline for the Weissach Package is improved performance. From zero to 100 km/h takes just 2.6 seconds, 0.2 seconds faster than the standard model. It takes just 7.2 seconds to travel from zero to 200 km/h in 7.2 seconds (a 0.5 second reduction), and 19.9 seconds to pass the 300 km/h mark (a 2.1 second reduction). Needless to say, this is the car that set the Nurburgring lap time!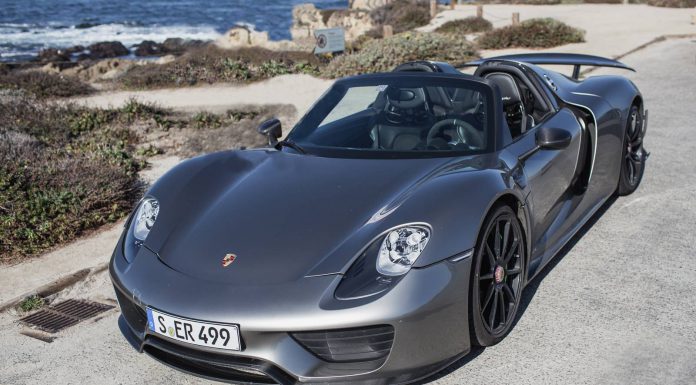 To achieve the dramatic increases, Porsche places the 918 Spyder on a diet! It sheds around 36 kg thanks to innovative measures such as a full-body film wrap instead of paint, magnesium wheels, a weight-optimised brake system with titanium components, wheel bearings with ceramic balls, a CFRP anti-roll bar at the rear axle and a CFRP prop on the luggage compartment lid.