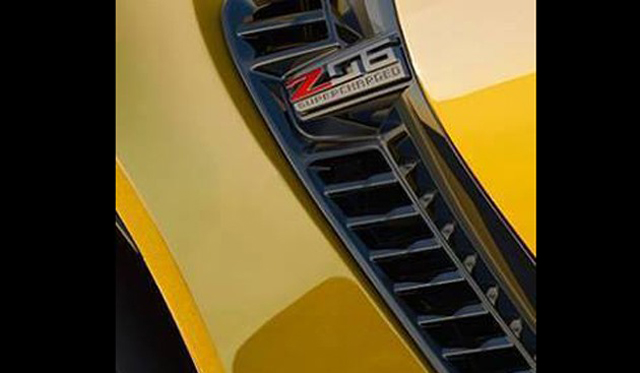 Just a few hours ago, information leaked online suggesting that the 2015 Chevrolet Corvette Stingray Z06 would deliver an incredible 620 hp and 650 lb-ft of torque. Now, a very revealing image of the new Z06 has been leaked online courtesy of Lingenfelter Performance.
Obviously showing the same rear air intake as this original teaser image showed, the new image shows the top half of the air intake which was originally cropped out. It features a badge reading Z06 and wait for it, supercharged! Yep, as predicted, the new 2015 Corvette Z06 is set to feature a supercharged engine!
As for what that exact engine is, it is currently unclear. However, a 6.2-liter supercharged V8 engine is the most likely candidate. In fact, back in early October, an image appeared online reportedly showcasing a supercharged 6.2-liter V8 engine and said to be utilised in the upcoming C7 Corvette Z06.
By comparison, the C6 Corvette Z06 featured a massive naturally aspirated 7.0-liter V8 engine. That powertrain delivered 'just' 505 hp. Despite this, the old Z06 could still reach 100 km/h in the mid-three second range thanks in part to its extraordinarily long gearing enabling it to hit 100 km/h in first gear.
However, with 620 hp and 650 lb-ft on tap, the new 2015 Corvette Stingray Z06 will be even faster and most likely quicker than even the C6 ZR1 which featured a brutal 640 hp supercharged V8.