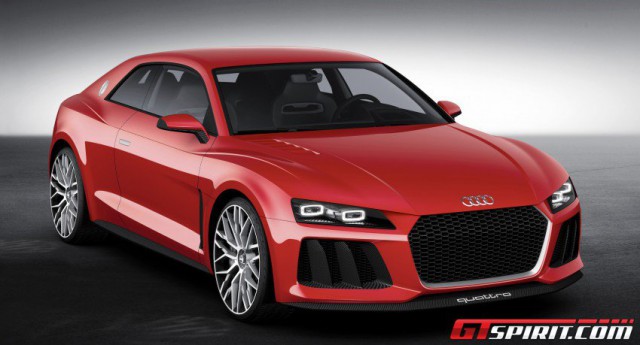 Just a few days at the ongoing Consumer Electronics Show, the Audi Sport Quattro Laserlight concept was revealed. As the name suggests, it is a new variant of the Sport Quattro Concept from Frankfurt last year but with bright red paint and new laser headlights.
Now, Audi CEO Rupert Stadler has confirmed that a production Audi will utilise the advanced headlights in the future. Unfortunately, he failed to reveal neither what Audi model would receive them nor when it would arrive. However, with the BMW i8 hybrid sports car already available with laser lights for the high beams, we can't imagine Audi is too far behind.
Just like the i8s headlights, the Audi Sport Quattro Laserlight concept features LEDs for the low beams and laser high beams. The main advantage of the laser high beams is that their range is about twice as long as comparable LEDs. As a result, they are more than capable of lighting a path 500 meters ahead of the car.
Consequently, we can't wait to see them reaching everyday production vehicles whenever that may be!
Returning to the Sport Quattro Laserlight, Dr Ulrich Hackenberg from Audi had this to say, "The new show car demonstrates technical 'Vorsprung' on many levels. On-board this car we have e-tron technology with 515 kW of power and 2.5 l/100 km (94.09 US mpg) fuel economy; laser headlights that leave all previous systems in the dark with its higher performance as well as new display and operating systems with cutting-edge electronic performance. We are showing the future of Audi here."
[Via Auto News]