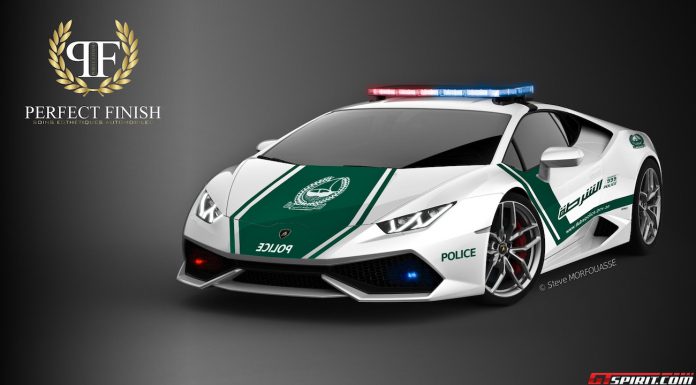 The Lamborghini Huracan was made official just a few weeks ago but that did not stop render artists getting to work on what the Superleggera, Spider and Squadra Corse variants could look like!
Here we have yet another render but one with a difference! The artist took the standard Huracan images that Lamborghini published and added some very cool Dubai Police livery! It is no secret that the Dubai Police Force love their supercars and we could see a Huracan join the fleet of supercars that includes the Lamborghini Aventador and Aston Martin One-77 in the future!
As a reminder the Lamborghini Huracán receives a new 5.2-liter V10 engine uprated and heavily updated from the engine of Gallardo's. It produces a total of 610 PS, or 602 hp at 8,250 rpm and 560 Nm of torque at a high 6,500 rpm. Consequently, the brand new Huracán can sprint from a standstill to 100 km/h in just 3.2 seconds, from 0-200 km/h in just 9.9 seconds and a top speed in excess of 325 km/h, plenty of pace to chase down the law breakers of Dubai!