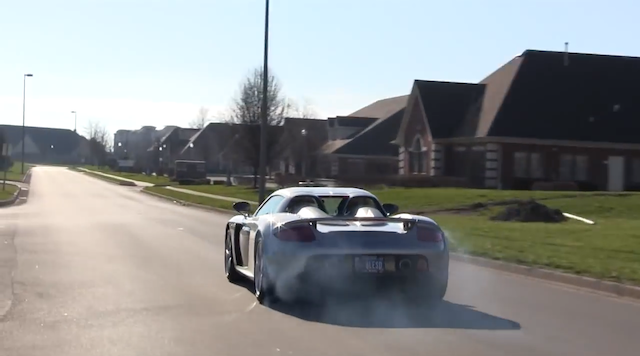 The Porsche Carrera GT is a car that will go down in history for being a raw, driver-focused road racer that tests the abilities of even the most experienced and capable drivers. Check out the video below that features a beautiful silver example that treats the camera to some huge revs and finally one mega burnout! Enjoy.
[youtube]http://youtu.be/uzYEeUmQvbQ[/youtube]
As a reminder, the 5.7-litre V10 howls and shrieks to 8,400 rpm and will produce a ludicrous 605 hp! The curb weight is little over 3,000 lbs and this huge power and low weight means the Carrera GT will hit 60 mph in just 3.6 seconds. This is a real drivers cars and this is reflected in the transmission, a 6-speed manual, two plate ceramic dry clutch gearbox. No automatic in sight! We love the 918 Spyder that will be replacing the Carrera GT as the next Porsche supercar but will always have a soft spot for the old car.
If you're a fan of the V10 supercar, be sure to check out GTspirit's road test of the car!