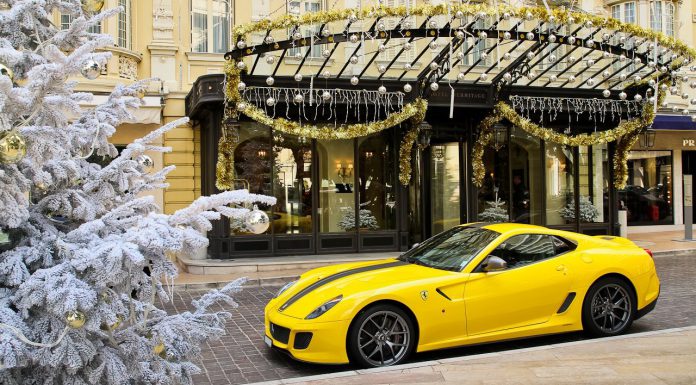 The Ferrari 599 GTO (Gran Turismo Omolagato) is a stunning car, not only to look at but to also drive. Its race-car gills, vents and over-sized diffuser are a hint to the power and pedigree that this this Italian beauty possess. The racing theme continues on the inside to.
The stripped out interior will bare metal work and welding combined with Alcantara and optional 5-point-harnesses make the driver and passenger feel as if they are in a track built weapon! This is the car to be seen cursing around the streets of Monaco, as well as being thrashed around the Nurburgring.
This beautiful example has been finished in Giallo yellow and has been complemented with an intricately painted historic black stripe that provides a lovely balance of contrast with the carbon parts and black wheels. The Italian stallion was parked in the Principality next to the infamous Hotel de Paris and its festive decorations providing for some great images as were captured by Raphael Belly!