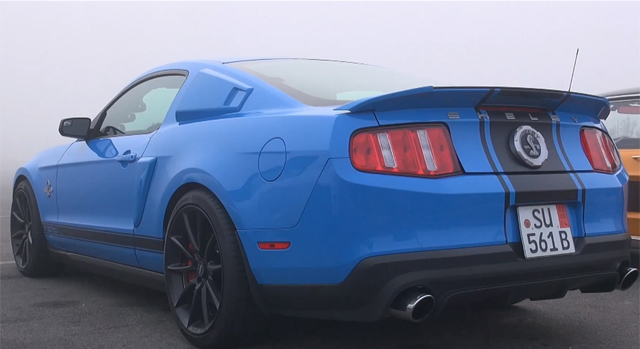 With just 500 units of the 2013 Shelby Mustang GT500 Super Snake built, spotting one outside of America is nearly impossible. However, the following video is of one of the top-spec Super Snakes which actually made the journey across the Atlantic to Europe!
When it debuted, the 2013 Shelby Mustang GT500 Super Snake was available in two different tunes. The first sees power rise to 662 hp and 631 lb-ft of torque and includes a modified 6-speed manual transmission with short-throw shifter, upgraded suspension, new Shelby/Borla exhaust system and a host of host upgrades to add an extra bit of aggression while also reducing the car's overall weight.
[youtube]http://www.youtube.com/watch?v=1wCYbPvyOcs[/youtube]
However, if the 662 hp isn't enough for you, you can choose to have a Ford Racing Whipple supercharger or a Kenne Bell supercharger bolted on both of which see power rise to an insane 850 hp! Consequently, this specification Super Snake is the most powerful road-legal Mustang ever offered except for the brutal Shelby Mustang 1000 with you guessed it, 1000 hp.
The following video sees its liquid cooled supercharger whining both under idle and light and heavy revs before the insane American muscle cars hits the tarmac for some donuts in the thick foggy conditions! The whine of the supercharger combined with the roar of the V8 makes for a very interesting soundtrack…