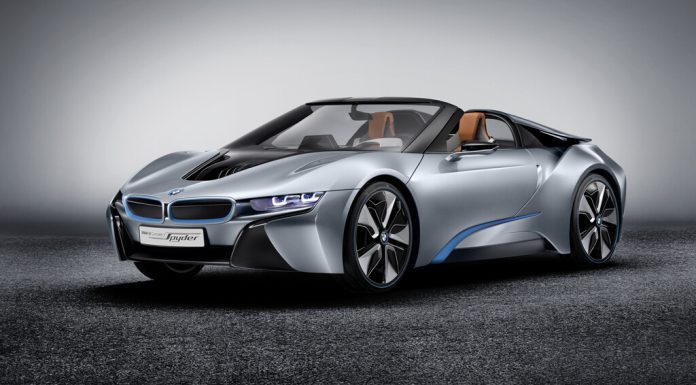 Recently, reports emerged suggesting that the BMW i8 Spyder had been given the production green light for 2015. Now it has been revealed that creating a production-spec i8 Spyder will be more difficult than the rumour mill had indicated.
When speaking with Autocar, an official BMW spokesman revealed that converting the carbon fiber reinforced plastic shell of the standard i8 coupe into a convertible was proving to be quite difficult. This isn't all that surprising as creating convertibles which maintain their rigidity is always difficult and the i8 seems to be more challenging than normal.
The spokesman went on to say, "The last architecture presented some fairly major challenges, to be able to produce a convertible in that format. The rigidity was hard to find with that particular architecture."
In order to offset the removal of the carbon fiber roof, the BMW i8 Spyder would need extra reinforcing in the floor and passenger cell to ensure it remained rigid. Rather than throwing in a couple extra tubes of steel like the old days, a more technical approach would have to be taken to further strengthen and reinforce the carbon fiber reinforced plastic compound.
As a result, there is a very good chance that the previously reported 2015 release date could come under threat.
Under the hood, it will remain identical to the i8 coupe. The standard i8 features a brand new three-cylinder petrol engine with BMW TwinPower Turbo technology. From 1.5 litres, the i8 manages an output of 231 hp, a maximum torque of 320 Nm and features rear wheel drive. Power is sent to the rear wheels via a six-speed automatic gearbox. The petrol engine is supplemented by an electric motor with an output of 131 hp and maximum torque of 250 Nm. The power from this lithium-ion high-voltage battery is channelled through the front wheels via a two-stage automatic transmission.
The combinations mean that the BMW i8 is able to produce 362 hp maximum power and 570 Nm of torque. Performance from 0 to 100 km/h is just 4.4 seconds with both engine and electric motor engaged. The BMW i8 manages economy figures of 2.5 litres per 100 km or 113 mpg in imperial measurements.
[Via Autocar]