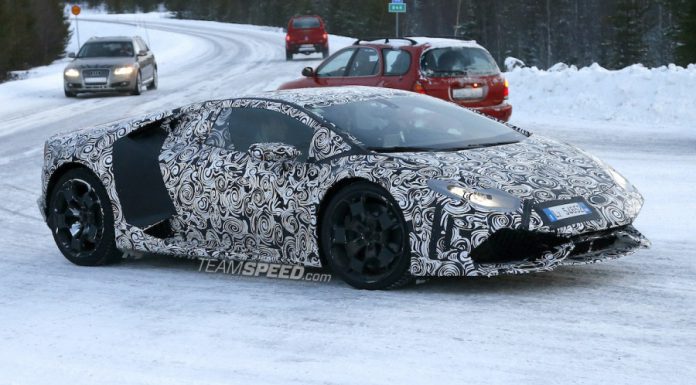 Two prototypes for the Lamborghini Gallardo's successor, currently known as the Lamborghini Huracan, were recently spied testing in the snow alongside a black Aventador.
For months now, it was believed that the Gallardo's successor would be dubbed the Cabrera. Then, reports recently emerged suggesting that it would instead by pinned the Huracan. While we will have to wait and see for the car's official debut early next year, whatever the new Lamborghini supercar is called, expect it to be the star attraction at next year's Geneva Motor Show in March!
While the styling will be quite different, the Gallardo's successor will be unmistakably a Lamborghini with much of its design being inspired by its top-of-the-range sibling, the Lamborghini Aventador.
While the visual side of things is important for the new car, most importantly, it is expected to feature an all-new seven-speed dual-clutch transmission. This indicates that Lamborghini has finally succumbed to the pressure and won't release the Cabrera with a similar ISR transmission to the range-topping Lamborghini Aventador.
That new gearbox will then be mated to an upgraded variant of the 5.2-liter V10 engine currently found in the Gallardo. In Cabrera-specification, expect around 600hp. As a result, we can expect a sprint from zero to 100 km/h in the low 3 second range with a top speed of around 320 km/h (200 mph).
[Via Teamspeed]