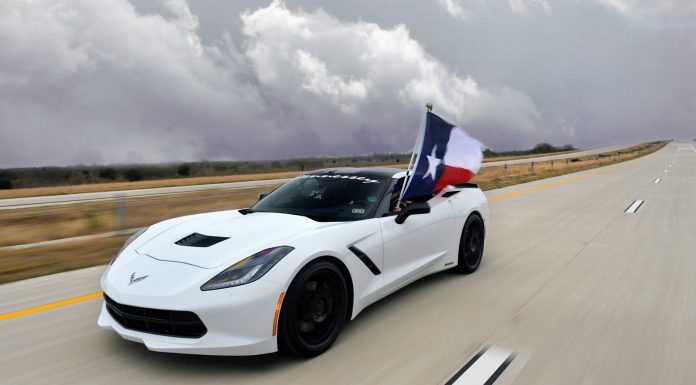 Following the recent driving debut of the Corvette Stingray HPE600 by Hennessey Performance, the tuner headed out onto a closed section of a Texas toll road to test out the straight line performance of its brand new C7 based HPE600.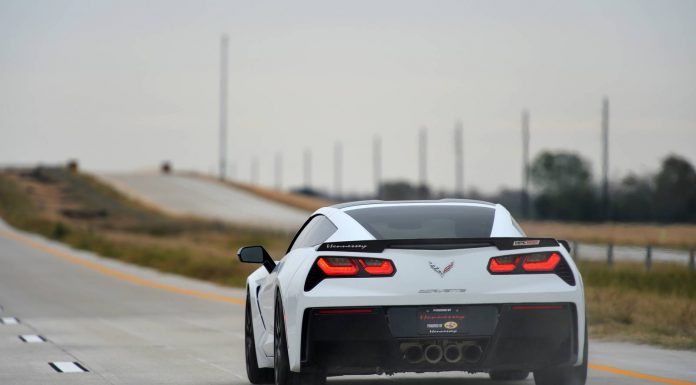 Hennessey Performance is of course no stranger to high speed runs on this stretch of road with its twin-turbo Cadillac CTS-V and upgraded Camaro ZL1 both hitting well over 200 mph here previously. Unsurprisingly, Hennessey Performance had the ambitious goal of reaching 200 mph in the brand new Corvette Stingray and in the end, the HPE600 did it with relative ease reaching 200.6 mph!
As the name suggests, the Corvette Stingray HPE600 by Hennessey Performance produces an impressive 603 hp. However, this HPE600 wasn't standard and actually featured a custom Nitrous Express kit adding an extra 100 hp at the push of a button! Other upgrades to the powertrain include new cylinder heads, stainless steel headers, custom HPE camshaft, HPE engine management calibration as well as some extensive dyno and road testing.
[youtube]http://www.youtube.com/watch?v=B-gzNi6MRwI#t=152[/youtube]
As it stands, Hennessey Performance plans to offer just 100 units of the HPE600 package for eager 2014 Corvette Stingray owners. Based on the incredible straight line performance of the Corvette Stingray HPE600, we don't think they'll have difficulty selling those 100 examples!