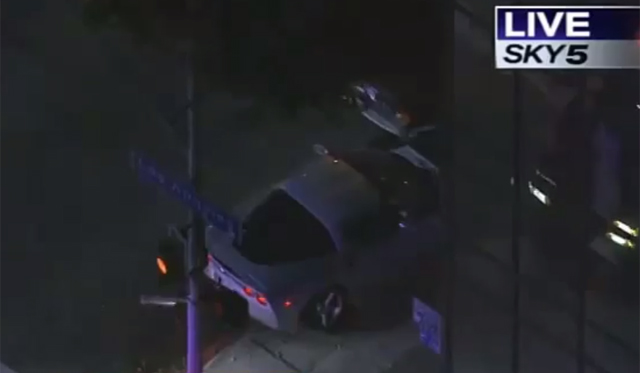 In downtown Los Angeles on Friday, a silver Chevrolet Corvette C6 was involved in a high speed police space which lasted for around one hour and ended with a violent crash and the driver of the American muscle car being shot by the LAPD.
[youtube]http://www.youtube.com/watch?v=IDI8VuG1gFI[/youtube]
The following video shows the second half of the chase as filmed by a news helicopter and throughout, the Corvette driver has his headlights turned off for a large portion of the chase obviously trying to disguise his position. However, with police helicopters following him throughout the entire pursuit, he never had any chance of escaping. In an effort to stop the Corvette, a spike stripe was used but the car was using run flats and able to continue.
Just after the 20-minute mark in this video, the Corvette T-bones a family sedan which ran a red light through the intersection. While the Corvette driver was not responsible for the crash, he tried to drive off despite the damage. When the driver exited the vehicle, shots were fired by the LAPD killing him at the scene.