Vauxhall has just taken the wraps off the 2014 Vauxhall VXR8 GTS and not only has it received a dramatic facelift, both power of torque have been dramatically increased. For those that didn't know, the Vauxhall VXR8 GTS is simply a rebadged HSV GTS from Australia but that doesn't make it any less impressive.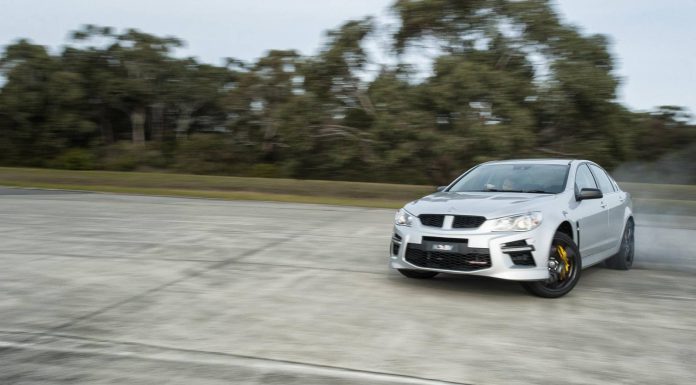 At the heart of the new Vauxhall XKR8 GTS is a brand new supercharged LSA V8 engine straight from the potent Chevrolet Camaro ZL1. It delivers a total of 576 hp and 545 lb-ft of torque which compared to the previous VXR8 is an increase of 150 hp and 140 lb-ft of torque. Vauxhall has yet to reveal performance figures for the new VXR8 GTS, but last year's model could hit 96 km/h in just 4.9 seconds and a limited top speed of 155 mph, so expect some seriously potent specs for the new car.
From a design standpoint, the 2014 Vauxhall VXR8 GTS features the same styling as the recently updated VF generation Holden Commodore. This consists of completely new front and rear fascias. However, the VXR8 GTS now features an even more aggressive front end with a sleek black rear wing, massive black wheels with red brake calipers as well as a new white and black rear bumper with quad exhaust pipes.
Some new technologies to feature on the VXR8 GTS include Brake Torque Vectoring which helps reduce understeer by generating a "rotational moment" in the rear axle with the accelerator is depressed. The new car also features Electronic Stability Control, Magnetic Ride Control with three different settings and finally, the GTS rides on massive wheels measuring 255/35 R20 at the front and 275/35 R20 at the rear.