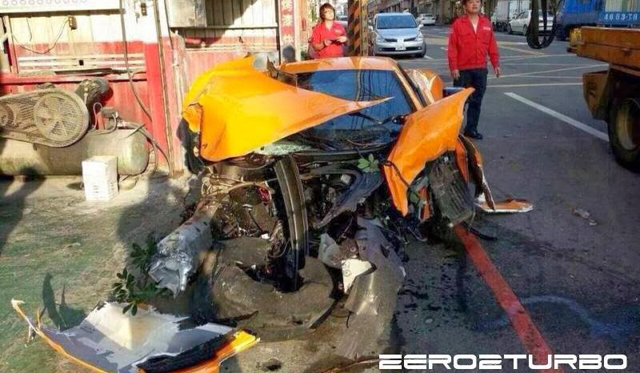 With its carbon fiber monocoque, or MonoCell as McLaren calls it, the McLaren 12C is an extremely rigid and safe supercar. To highlight just how safe it is, the following bright orange 12C crashed heavily and at high speed in Taiwan and despite the carnage left behind, the driver managed to survive and is currently being treated in hospital.
No official cause for the crash is known, but the driver of the 12C inevitably lost control of the potent British supercar and eventually slammed into a concrete pole absolutely destroying the front end of the vehicle. The impact was so violent in fact that the whole left hand side of the 12C was destroyed with one of the doors being ripped off. Unsurprisingly, the car was swiftly taken away on a truck for dumping in a local scrap car yard.
Seeing any supercar crash is upsetting, but seeing one as capable as the McLaren 12C being utterly ruined is a real shame. When it left the factory, this 12C would have featured a 3.8-liter twin-turbocharged V8 engine pumping out an impressive 616 hp in 2013 specification. Despite being rear wheel drive, the 12C can hit 100 km/h from a standstill in just 3.1 seconds which is faster than some all-wheel drive supercars!
[Via Zero2Turbo]