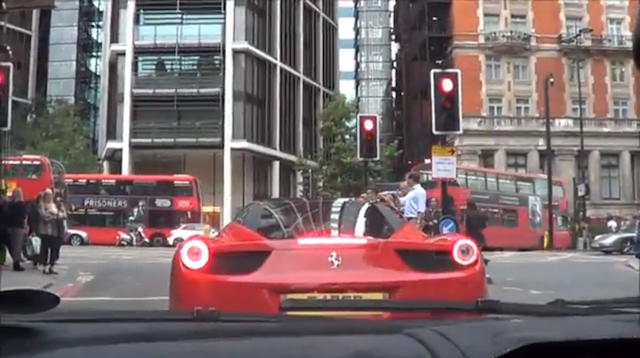 London's supercar scene is almost unrivalled and the drivers take every opportunity to stretch their cars legs and provide some aural entertainment to the crowds of visitors in the country's capital. The video below features a ride in a black Lamborghini Gallardo LP570-4 Spyder Performante weaving through traffic and dropping a few gears in the Knightsbridge underpass with a Ferrari 458 leading the way.
[youtube]http://youtu.be/7x0j97-um70[/youtube]
As a reminder, the Performante is the Italian marques hardcore Gallardo Spyder. Due to the fact that it is lighter than the base Lamborghini Gallardo Spyder, the car is essentially a convertible version of the Gallardo Superleggera which makes this Gallardo a real monster! Powered by a 5.2-liter V10 that produces 570 hp, 10 more horsepower than produced by the base Lamborghini Gallardo LP560-4 Spyder, the car will sprint from 0-100 km/h in just 3.2 seconds. The Performante won't stop accelerating until it reached an astounding 323km/h!
The Ferrari 458 Italia is certainly no slouch either. The Italia's 4.5-liter V8 is a delicate yet potent piece of engineering. The 4.5-liter V8 produces 562 hp and an engine tone that will melt your ears and get your heart racing. The 458 will smash past 100 km/h in just 3.4 second all whilst producing drama that only a Ferrari can.