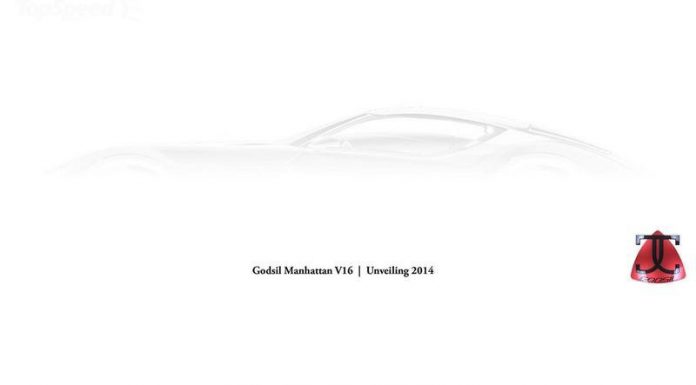 Hearing of new supercars from start-up companies is nothing new. As a matter of fact, it seems like a new supercar promising world-beating performance is teased or released every few months. Unfortunately or fortunately depending on your views, very few of these promised supercars ever come to fruition.
The latest new supercar to be teased is this, the 2014 Godsil Manhattan. Produced by Godsil Motorcars, the company is promising the Manhattan to be an extremely luxurious supercar and if the claimed performance aims are reached, then it will definitely have achieved the supercar half of that description.
It is claimed that the Godsil Manhattan will feature a V16 engine running on compressed natural gas. An interesting prospect, but one we're a little bit unsure of. Nevertheless, this V16 engine could displace 8.0-liters and produce an amazing 900 hp and 660 lb-ft of torque. Consequently, Godsil claims that the Manhattan may reach 96 km/h (60 mph) from a standstill in just 2.8 seconds on its way to a Lamborghini Aventador beating top speed of 220 mph.
The above teaser portrays the Manhattan with an extremely long hood confirming that it's be front-engined. It then features a very short tail, sleek windows and massive wheels. In fact from the side, it reminds us of the brand new Mercedes-Benz AMG Vision Gran Turismo.