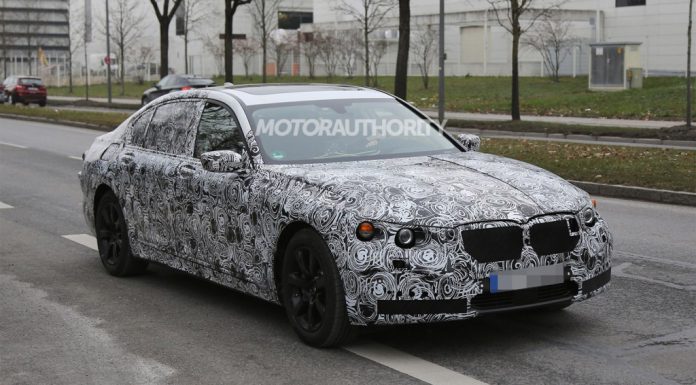 As it stands, Mercedes-Benz is believing to be producing not one but two long-wheelbase variants of the new 2014 S-Class sedan. The first will be dubbed the 2015 Mercedes-Benz S-Class Pullman while the other is expected to be simply dubbed the long wheelbase and will be the largest of the two. As we know, BMW is currently working on a brand new 7-Series for the 2015 model year and now a long wheelbased prototype has been spotted testing.
In addition to competing with the long wheelbase S-Class, this extended 2015 BMW 7-Series could also compete with the base Rolls-Royce Ghost which currently costs about $100k more than the most expensive 7-Series.
From a styling front, expect it to remain a true BMW with the Hofmesiter kink and dual kidney grille. Other than those stylistic features, very little can be said about the new 7-Series' design.
Underpinning the 2016 BMW 7-Series is likely to be a dramatically lighter platform incorporating the know-how BMW has gained through the carbon fiber i3 and i8 sports car. As a result, the new platform could incorporate carbon fiber, steel and aluminium and help the vehicle achieve a drop in weight over up to 400 pounds.
Under the hood, we can expect to see a variety of engines ranging from six cylinders to V12s.
[Via Bimmer Today and Motor Authority]