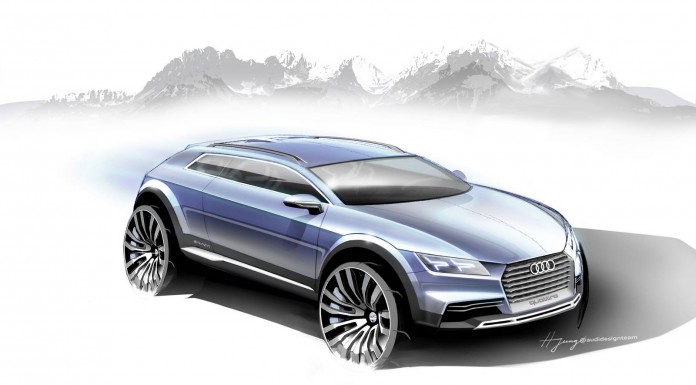 Based on recent spyshots, it can be concluded that the third-generation Audi TT is just around the corner. Now, Audi has dropped the following teaser images of the Audi Allroad Shooting Brake Concept set to debut at the Detroit Motor Show 2014 and possibly previewing the next-gen Audi TT or a compact Audi Q1 SUV.
At the 2005 Tokyo Motor Show, Audi previewed the facelifted second-gen Audi TT with a shooting brake concept and the Allroad Shooting Brake could therefore be previewing the upcoming third-gen TT. Further indicating that the Allroad Shooting Brake could in fact be a modified TT is the fact that it is exactly the same length as the current TT. However, Audi recently confirmed that it was working on an entry-level compact SUV and this could very well be that.
From a visual standpoint, the Audi Allroad Shooting Brake Concept features massive widened wheel arches, slimlined windows as well as the latest interpretation of Audi's classic front grille. The Allroad is then sporting a set of sleek roof rails and 19-inch wheels with twin seven spoke wheels.
Moving to the interior, the above image shows that the Allroad Shooting Brake features a 2+2 layout with a very simple dash layout and a steering wheel quite similar to the McLaren 12Cs. Apart from that, there appears to be very few luxuries suggesting that the next-generation Audi TT will be as driver focused as ever.