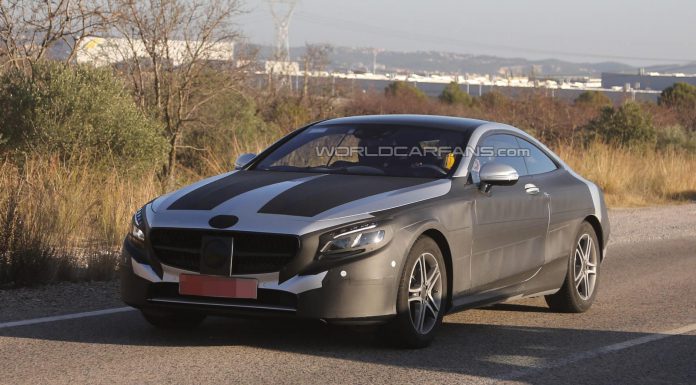 Testing of the 2015 Mercedes-Benz S-Class Coupe is continuing with this latest prototype dropping some of the heavy camouflage seen on previous prototypes. As a result, it gives us our best glimpse yet as to how the production-spec S-Class Coupe will look.
The 2015 Mercedes-Benz S-Class Coupe has already been confirmed for a debut sometime next year. It is most likely it will receive a debut in Geneva before hitting the production line later next year as a 2015 model.
Mercedes-Benz S-Class Coupe Concept

When recently speaking about the design of the road-going S-Class Coupe, the firm's design chief Jan Kaul revealed that its design would be very similar to that of the S-Class Coupe Concept revealed at Frankfurt and this spy shot demonstrates that. From the front, the car features slightly modified and sleeker headlights than those featured on the sedan variant of the S-Class.
Additionally, it features a redesigned front bumper as well as aerodynamic lines stretching down both sides of the luxury coupe.
As you would imagine, the S-Class Coupe range will be topped out by the S63 AMG Coupe. It is set to be powered by the mighty AMG 5.5-liter twin-turbocharged V8 engine. This potent powertrain helps deliver a total of 585 hp. Power is then transferred to the wheels via a 7-speed Speedshift MCT sports transmission. It is possible that the Mercedes-Benz S63 AMG Coupe will be available both in rear-wheel drive and all-wheel drive configurations.
Either way, we can expect to see it rocket from a standstill to 100 km/h in a brisk 3.8 seconds while top speed will be electronically limited to 250 km/h (155 mph).
[Via World Car Fans]