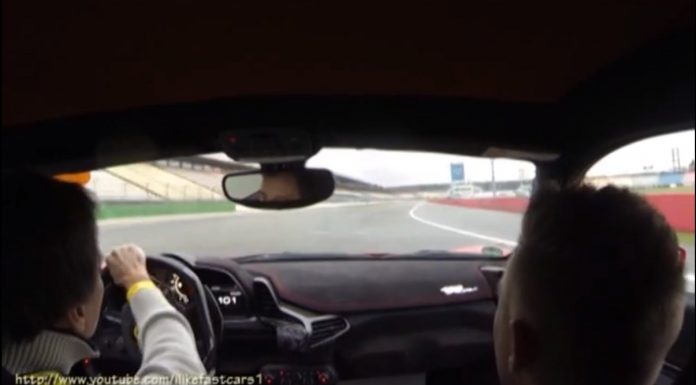 The Ferrari F430 was replaced four years ago by the sharper, faster and more advanced 458 Italia. This meant that the 430 Scuderia also became defunct, a car that was replaced earlier on in the year by the stunning, yet strangely named, 458 Speciale. The two cars are rather different in character but are both mighty fast! Here we have a video of both cars pounding around the Hockenhiem Ring, dicing through braking zone and blasting down the straights!
[youtube]http://youtu.be/d9YhA8cwZQc[/youtube]
The Ferrari 458 Speciale gets a modified variant of 458's 4.5-liter V8 engine. In the Speciale it delivers a total of 597hp and 398lb-ft of torque making it the most powerful naturally aspirated V8 engine ever produced by Ferrari. Weight reduction is a big part of the philosophy, the Speciale loses 195 kg over the standard 458 Italia at 1,290 kg. This is 40 kg heavier than the 430 Scuderia, yet the extra power makes up for it. Ferrari claims a sprint time to 100km/h of just 3 seconds, the Speciale can then hit 200km/h in just 9.1 seconds.
The Scuderia uses a 4.3 liter V8 with 508hp that is able to sprint it from naught to 100km/h in 3.6 seconds, thanks to the F1 inspired transmission, enhanced intakes and more power than the base model. It can achieve an autobahn maximum of 319km/h, to praise it even more; the car is equally fast as the Ferrari Enzo and the standard Ferrari 458 Italia around the Fiorano test track.