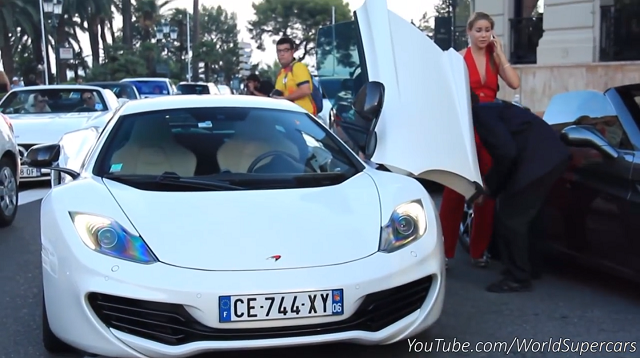 The McLaren 12C hides a 3.8 liter twin turbo V8 engine delivering 616hp at 7,000rpm and 443lb-ft of torque between 3,000 and 7,000rpm under the bonnet. Those performance figures offer a sprint from zero to 100km/h in 3.3 seconds (3.1 seconds with corsa tires). As a result the car certainly earns supercar status. In Monaco there is no better way of making an entrance than in a supercar, especially one with doors that draw so much attention.
[youtube]http://youtu.be/sLFinAsSQpY[/youtube]
As the video above shows, the 12C certainly is very popular in the Principality, not just the make car fanatics but even a rather pretty French woman who was allowed to block half of the road to hand her keys to the Valet driver causing somewhat of a supercar traffic jam that included a Mercedes SLS!