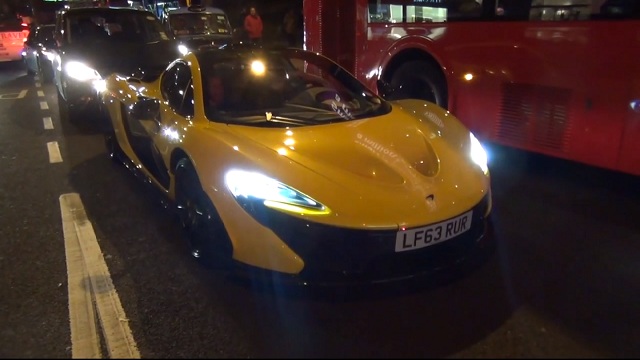 The McLaren P1 began to be delivered to customers a short while ago. The very first car to be delivered has been spotted in London and it looks fantastic! The yellow car stands out in the London traffic and turned heads everywhere it went!
[youtube]http://youtu.be/1Wldv9r1Y5E[/youtube]
The P1 is a representation of the future. Under the carbon fiber hood is a twin powerplant generating an astronomical combined output of 903 bhp. It gets a very efficient 3.8-litre twin turbo V8 petrol engine and a lightweight electric motor. The remarkable acceleration, delivered as a result of the instant torque offered by the electric motors and the optimized turbos, results in the hand-built car reaching 100 km/h in a stunning 2.8 seconds, 200 km/h in a scarcely believable 6.8 seconds, and 300 km/h (186 mph) in just 16.5 seconds. This is a staggering 5.5 seconds faster than the legend that is the McLaren F1. Top speed is electronically limited to (just!) 350 km/h.