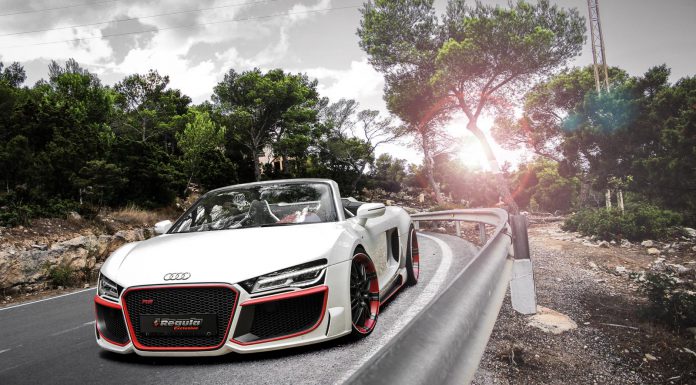 With a bit of additional weight and a little less power, the Audi R8 V10 Spyder is the Lamborghini Gallardo Spyder for the classy. Without the in your face looks of its Gallardo brethren, the Audi R8 in all specifications, is a much more delicate car to look at with more flowing lines and less jagged edges.
However, what if you wanted to combine the aggressiveness of the Lamborghini Gallardo with the curves of the Audi R8? Well, you could get this, the brand new Audi R8 V10 Spyder by REGULA Tuning. While the REGULA Tuning Audi R8 V10 Spyder features purely cosmetic changes with a new bodykit, there's certainly no chance it could be mistaken with a regular R8.
It features a brand new front fascia with a gaping black front grille and enlarged dual air intakes again finished in black. Accenting this predominantly black front-end are bright red surrounds which add that little extra flair to the German supercar.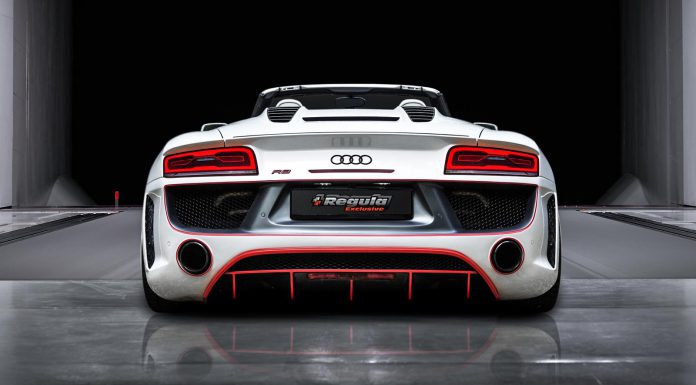 Next, the Audi R8 V10 Spyder by REGULA Tuning features new side skirts again incorporating these red accents as well as a brand new rear bumper and rear diffuser with red accents. Also at the rear are new grilles.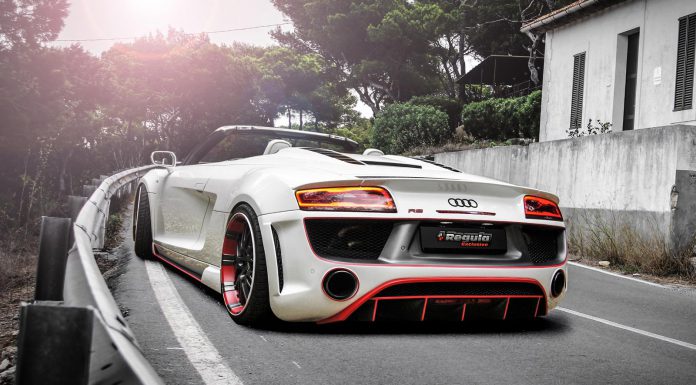 The Audi R8 V10 Spyder by REGULA Tuning is then rolling on a set of 20-inch Oxigin-Oxrock alloy wheels completed with tyres measuring 265/30-20 at the front and 305/25-20 at the rear.
While this REGULA Tuning bodykit is displayed on the range-topping convertible model, it is available on all models and costs 7950 euros!